Sailing and Savoring the Amalfi Coast
Sail along ancient Mediterranean trade routes along the Neopolitan islands of Procida, Capri, Ischia, on to the splendid towns of the Amalfi coast. Amalfi, being the oldest Maritime Republic in Italy, boasts a history as rich and dramatic as the coastal cliffs ascending behind it. Like sea-traders of old, we will take in this magnificent region of Italy from the sea. Meandering from cove to harbor on a private sailboat affords us the luxury to sample local variety from town to town – simple fresh dishes drawing on the wealth of the Mediterranean and the specialized agricultural traditions which flourish above each village. Or to choose a swim in the aquamarine sea with the granite cliffs of Capri soaring above, followed by dinner of the day's catch on board at sunset. Whimsy, leisure, and a sense of harmony with the sun, wind and sea give this culinary adventure a special flair and a novel perspective on this intriguing region. Call it "slow sailing!"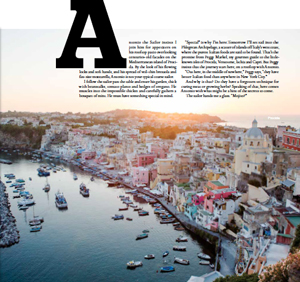 Download the 20-page feature story on this program from the March 2013 issue of Islands Magazine. 
Backdoor experiences that lead one into the very heart and soul of an ancient and lovely people cause even the most ardent business person to cast their Blackberry into the sea in exchange for moments of pure, simple pleasure. The warm baths of Ischia engulfed us and the unparalleled sunsets on Procida are alive in our minds as if it were yesterday. Watching the sea move slowly and patiently enticing us into its welcoming waters, we were transformed by this experience. We shall never be the same.
— With gratitude, Beth W.