Staff
Sole Mingo-Ordoñez
When you call or email inquiring about a trip, it's likely you will talk to Sole! She assists guests in finding the perfect trip, and coordinates many of the details behind our bookings and culinary programs. She also manages PMCA's marketing efforts, making sure that clients past and future are up to date with PMCA's latest offerings and Peggy's culinary discoveries across the globe.
Sole has a strong travel and foodie background and degrees in Hotel Management from Cornell University, and Culinary Arts from the Culinary School of the Rockies.
An avid traveler, Sole has visited 31 countries so far and is always looking for new adventures. Sole is Argentinean and fluent in Spanish and English and can speak enough French and Italian to get herself in – and out – of trouble. She lives in Boulder, Colorado when she is not traveling with Peggy, or with her two wonderful children who suffer from as much wanderlust as their mom does.
Ashley Mulligan Schütz, chef and yogini
A gypsy chef herself, Ashley Mulligan Schütz assists Peggy in some of our Morocco adventures. In addition to her good humor and cooking skill, Ashley brings yoga to our groups, sometimes leading optional rooftop sessions.
Ashley has been practicing yoga for 10 years. 7 of which, she was setting her mat up in any hallway, rooftop, or boat deck available, as she traveled throughout foreign lands. After completing her training in India to become a teacher of yoga, she promptly flew to Morocco to begin sharing her gift with others.
She gently guides practitioners of any level in a yoga practice that is calming and yet refreshing to the body and the mind.
Whether you come to your mat in the morning to move or to sit, to meditate or to pray, or even just to experience Morocco in a new way — join us for a moment blending together the warmth of early sun, the smell of orange blossoms and the call to prayer in the distance. Morning yoga with Ashley on your PMCA trip will quickly secure your love affair with Morocco.
Ashley also blogs at agyspychef.blogspot.com.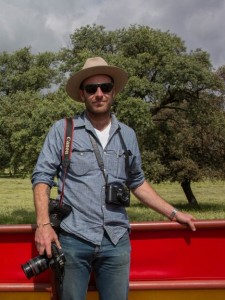 Stephen Smith, travel photographer
Growing up in North Carolina in an active family he spent most of his developmental days outside exploring the family farm, woods, streams and lakes of this bio-diversifed Southern landscape. 
Stephen received a Bachelor of Fine Art from the University of Colorado while finding time to ride mountain bikes, camp, fish and snowboard. Five months on a solo motorcycle adventure through South America piqued his interest in farming, grape growing and winemaking leading him to Napa, CA where he got his hands dirty working for boutique wineries and vineyards. 
In 2012, he moved back to Colorado to work as the Director of Business Development for the first Organic distillery in the US and only Biodynamic vineyard in Colorado. Half-a-year on a 90,000 acre cattle ranch opened Stephen's eyes to large scale land management, animal husbandry as well as agricultural and economic diversification. He now works as a travel and agrarian photographer combining his passions and expertise in these fields.
Stephen is PMCA's travel photographer and accompanies us on various Culinary Adventures, documenting them and sharing photography tips with our guests.
Lindsey Ketterer, intern
The newest member of the team, Lindsey, is our very own intern! She works alongside Sole handling everything from the website and social media to bookings and communicating with our guests.
Lindsey recently graduated from the University of Colorado and is excited to incorporate her studies in Business and Spanish with her two biggest passions: travel and food. She has been traveling for her whole life and has been interested in cooking and all things culinary for as long as she can remember. She even cooked the entire Thanksgiving dinner for her family when she was only ten years old!
She spent six months living and studying abroad in Chile and loved exploring a new continent. Each weekend was a new adventure, whether it was wandering through the streets of Santiago or taking a long bus ride to a new city or country. During her time there, she could be found sampling every street corner empanada, cooking traditional Chilean dishes alongside her host mother, or hiking through the ruins of Machu Picchu and the majestic mountains of Patagonia.
In her spare time, Lindsey is busy planning her next adventure, perfecting her latte art, and exploring Colorado with her small but mighty chihuahua named Ruby.
Accounting: Linda Curry
Web: Mary Sweet Designs