Sample Itinerary
If you would like a detailed itinerary for this Culinary Adventure,
including hotel information,
please contact us at info@peggymarkel.com
Program includes:
– 12 days of unforgettable images and discovery in the regal region of Rajashthan
– Cultural excursions to palaces and local artisans, villages and marketplaces, and historical sites
– 5-star hotel accommodations and noble countryside estates
– Most meals and all cooking classes and demonstrations + Recipes!
– Elephant ride
– Knowledgeable guides in all cities, including village jeep tours and safari bird watching
– Pick-up at the airport in Delhi by private driver upon arrival
– Transportation in air-conditioned vehicles
Not included but offered:
– India's premiere wine selections
– Ayurvedic Spa treatments
– Optional pre or post trip excursions to Agra and the Taj Mahal, or the the Ajanta and Ellora Caves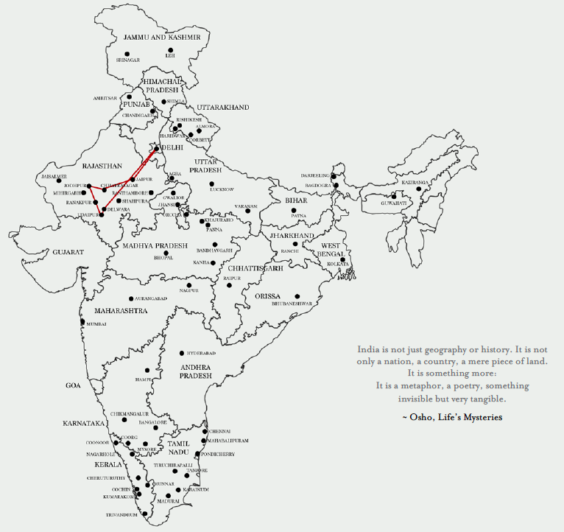 Itinerary
It is true that you never come home from India. It's a world of contrast, a feast for our senses, and provides an ancient education in how the world began when beauty, life and culture was in balance with nature and spirituality.
New Delhi ~ 3 nights
Jaipur ~ 2 nights
Chhatrasagar ~ 2 nights
Jodphur ~ 2 nights
Udaipur ~ 2 nights
Delwara ~ 1 night
New Delhi ~ 1 night
SATURDAY ~ DEPART HOME
SUNDAY ~ ARRIVAL DELHI
If trees and streets could talk, the stories that would pour out of Delhi would keep listeners mesmerized for years. ou can get no better insight into the diversity of India than from its capital—where the old and new, cultural and contemporary, rural and urban, all blend harmoniously. While Old Delhi is a maze of narrow serpentine lanes lined with shops, the new city is a bustling metropolis and wide open spaces.
On arrival at Delhi International Airport you will be met by a driver and transferred to your hotel. After settling in, guests will meet Peggy and the rest of the participants for a casual aperitivo and introductions—followed by dinner.
MONDAY ~ DELHI
After breakfast, we will begin our program with a visit to Delhi's Sitara Bazaar, a souk-like bazaar with narrow streets and crowded alleyways. Many of the shops here are more than a 100 years old and the labyrinth of alleyways is full of surprises, with a conglomeration of various mini-markets including the silver market and spice market. With a local food expert, we'll visit Asia's largest wholesale spice market, Khari Baoli. The overall experience seems chaotic but in reality it's very well managed. After an exhilirating rickshaw ride, we'll visit a local restaurant for a unique fine dining culinary journey showcasing India food for the 21st century. Cooking demo will be followed by a late tasting lunch. Return to the hotel for a relaxing evening of leisure. Dinner on your own (most guests are too tired and full for a formal dinner this day).
TUESDAY ~ DELHI
Today after a leisurely breakfast, we will drive to urban Indian homestays for a cooking demo of traditional home cooking, learning to use traditional spices and local ingredients in an informal, everyday way. Return to the hotel after lunch and enjoy the afternoon for leisure, or a spa treatment. This evening we will drive to Hauz Khas Village, an upmarket, chic, boho urban village with some of the best places to eat, design studios and boutiques. Dinner on your own (recommendations provided if you want to venture out of the hotel). Again, we have found out that most guests prefer not to eat heavy meals the first couple of days which is why we leave this dinner at your discretion.
WEDNESDAY ~ DELHI / JAIPUR
Early morning transfer to the New Delhi Railway station to board our train for Jaipur, the first stop in our tour of royal Rajasthan. En route to our hotel we will visit the Observatory from the early 1700's. Lunch at our elegant hotel before heading out to explore the colorful and chaotic bazaars of the city. In the evening we will enjoy a culinary conversation with the Chef and the hotel owner, a renown and well-travelled royal, before partaking in a delicious Rajasthani dinner.
THURSDAY ~ JAIPUR
This morning we will visit the imposing and impressing Amber Fort with its royal apartments, halls and dramatic views. Afterwards, we will meet with our wonderful host for an introduction to Rajasthan cuisine and spices. He will walk us through the preparation of a few special dishes, including our lunch. In the afternoon we will return to the hotel for some relaxation before enjoying a private elephant safari through the somnolent countryside and al-fresco dinner.
FRIDAY ~ JAIPUR to CHHATRASAGAR
Today after breakfast we will continue our journey to Chhatrasagar where we will arrive for lunch. At Chhatrasagar we will check in to a luxurious campsite situated on the dam of a 100-year old reservoir. The site exemplifies the luxury living of the Rajasthani royalty in tents that were often mini palaces. Optional bird walking around the lake. Dinner will include a truly delicious Indian and traditional Rajasthani meal.
SATURDAY ~ CHHATRASAGAR
This morning we will have the unique opportunity to visit a nearby traditional village accompanied by one of the members of the Chhatrasagar family for a glimpse into everyday life — we will visit the fields, watering hole, elementary school, potter, and more. Photo opportunities abound. Afternoon of leisure for more bird-watching, strolling, and a sunset hike for sundowners and 360-degree views of the countryside, followed by delicious Indian and Rajasthani meal cooked with farm fresh vegetables.
SUNDAY ~ CHHATRASAGAR TO JODHPUR
After breakfast we will drive to Jodhpur. We will check into our hotel and enjoy lunch and a relaxing afternoon. In the evening we will have a chance to walk through the colorful bazaars of Jodhpur – well known for glass bangles, ornamental swords, rugged leather slippers and printed fabrics. This evening offers a free dinner (recommendations provided).
MONDAY ~ JODHPUR
This morning we will visit Mehrangarh Fort and the Umaid Bhawan Palace. Relax for the rest of the afternoon before heading to the kitchens for a cooking demo, followed by dinner.
TUESDAY ~ JODHPUR / RANAKPUR / UDAIPUR
This morning we will drive to Udaipur and en route, stop at the Mountbatten Lodge for lunch — an exclusive property in a stunning location among ancient trees. In Udaipur we will check into a breath-taking white palace in the middle of Lake Pichola. Guests will have the afternoon to rest or explore. Dinner will be at your own discretion.
WEDNESDAY ~ UDAIPUR
After breakfast, we will explore the City Palace, the largest palace in Rajasthan covering an area of 5 acres and built between the 16th and 20th centuries. Lunch before returning to our hotel. During the late afternoon, we will have a cooking demo in the kitchens of Neel Kamal restaurant at the Taj Lake Palace, followed by dinner.
THURSDAY ~ UDAIPUR TO DELWARA
After breakfast, we will depart for Delwara and wander through the local village. Guests will be free for lunch and an afternoon at leisure to enjoy the excellent spa. In the evening, we will dress our best for a FAREWELL DINNER .
FRIDAY ~ DELWARA TO UDAIPUR + UDAIPUR / DELHI (flight)
This morning after breakfast, we will attend our final cooking class with the Devigarh chef and his team, followed by an early lunch. In the afternoon, we will transfer to Udaipur airport in time for our flight back to Delhi. On arrival at the Domestic Airport in Delhi, we will be met by a local guide, who will take us to our hotel. Guests will be free for dinner, as we prepare for our final departures.
SATURDAY ~ DEPARTURE DELHI
Airport transfer included.