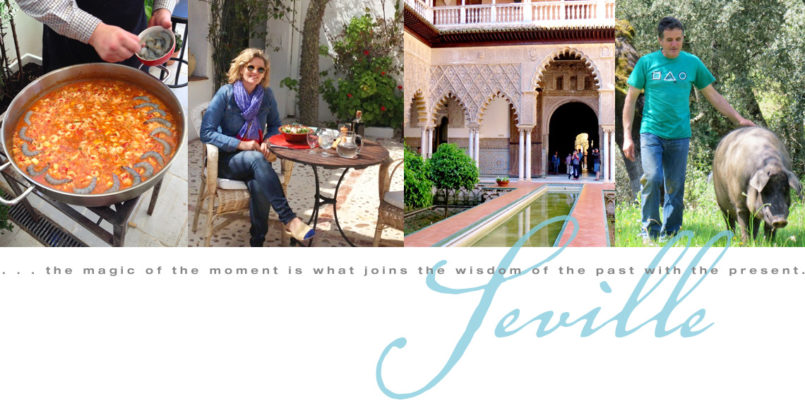 detailed itinerary ~ april 23 – 30, 2016
We are so glad you are interested in joining Peggy Markel and Peggy Markel Culinary Adventures next April 2016 in Seville. We are looking forward to sharing with you the many wonders of Spain's delicious cuisine and warm culture.
If you have any questions, please contact us at info@peggymarkel.com . We look forward to hearing from you!
The Scintillating Flavors of Seville
Reading through this itinerary, you will see why I am excited about our collaboration with Anthony Reid Mora-Figueroa.
The son of an English Hotelier and Spanish designer mother, Anthony comes from a family of fine taste. This is reflected in their properties and also in the hospitality. Anthony understands the importance of the table and the quality of ingredients that grace the plate, drawing from the richness of local ingredients that we have swooned over for generations: Jamon Iberico, the great sherry wines, brandy and vinegar from the region of Jerez, the Sierra of Huelva where the world ́s finest ham is produced from the Iberian pig, tapas, spicy olive oils, fresh seafood including the annual tuna Almadrabas in Barbate … and more.
The warm and sunny climate that will surround us on this adventure is a reflection of the gregarious and welcoming character of the local Andalucian. Here, we will experience 3,000 years of history and an eclectic mix of landscapes: undulating sierras, mountains, lakes, dunes and Atlantic coastline. We will be situated in the Southwestern part of Andalucia, the historic city of Seville to the North and Jerez with its sherry bodegas and dancing horses to the South. Eastwards is the Sierra de Cadiz, where the rugged hills of the sierra are densely wooded with pine trees and cork oaks. Here, clinging precariously to the edges of deep river gorges or perched on rocky cliffs, are a series of fascinating fortified towns known as simply los pueblos blancos, "the white villages." Each year, villagers whitewash their homes to create a striking contrast to the flower-filled streets.
Spaniards have succeeded most in taking traditional dishes and ingredients and giving them a modern twist. We will get a taste of it all, along with the dramatic history of Seville, Flamenco and the surrounding countryside. During this week we will experience southern Spain in warm Andalucian style. A complete dovetail of likeminded values in food and culture. Bienvenidos!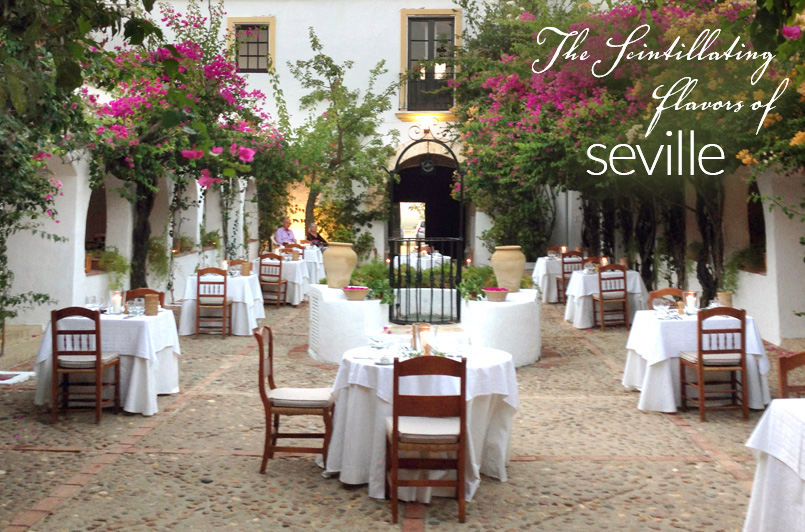 ITINERARY AT A GLANCE
| | | | |
| --- | --- | --- | --- |
| 2016 Dates | City | Lodging | Nights |
| Apr 23 – 26 | Seville | Corral del Rey | Three |
| Apr 26 – 30 | Las Cabezas de San Juan (outside Seville) | Hacienda de San Rafael | Four |
| Apr 30 | DEPARTURE from Seville | | |
| | | | |
DETAILED PROGRAM (Subject to Change)
APRIL 23, 2016 (SATURDAY) SEVILLE, Corral del Rey
Guests are welcome to arrive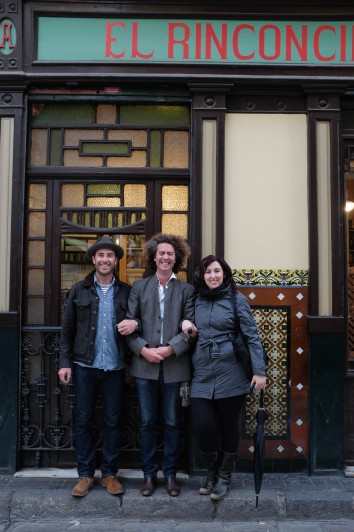 during the early to mid afternoon on this day. The group will meet at the Corral del Rey hotel for a Welcome drink at 6 pm. We'll get to know each other, go over the program and talk about the week.
Corral del Rey is located in the heart of Seville, in the old quarter of Barrio Alfalfa, a five- minute walk from the city's famous cathedral. The hotel is situated in an original, restored 17th Century Casa Palacio, its roof terrace overlooking La Giralda.
This evening, our adventures will begin with a "Tapas Crawl," guided by Roger Davies, a Welshman who has lived in Andalusia since 1987. Roger has been featured in numerous travel articles over the years and last year appeared on television with Rick Stein. During this evening's exploration of a variety of Seville's finest tapas bars, we will become familiar with the region's most common ingredients and this ritual that is el tapeo.
Overnight – Corral del Rey.
APRIL 24, 2016 (SUNDAY) SEVILLE, Corral del Rey
After enjoying breakfast on the hotel's roof terrace, we will meet as a group to visit Seville's major historical sites. Our local guides, Fran and Angeles, will bring us through the Barrio Santa Cruz, where we will visit the Real Alcazar and Cathedral.
Seville's Cathedral—larger than both Saint Paul's in London and Saint Peter's in Rome—was built on the site of an Islamic
mosque in the late 12th century. A visit to the Royal Alcazar palace, which bears striking resemblance to Granada's
Alhambra, will provide us with context for the flavors and textures of southern Spanish culture that we will encounter throughout the coming week, in the kitchen and beyond. With visions of these historical monuments still fresh in our
minds, we will wander the maze of narrow streets that make up the Barrio Santa Cruz, once the city's Jewish quarter, filled with wrought iron gates and patios spilling flowers into the alleyways. Here, we will enjoy a light lunch at La Moneda, a seafood restaurant mostly frequented by locals.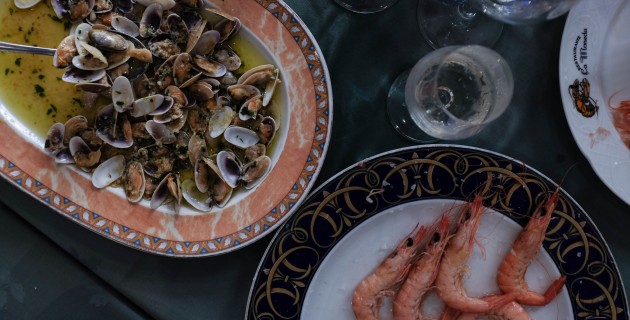 The afternoon will be free to rest until we take you out once again for another great meal at La Contenedor, A Slow Food restaurant, featuring local fare and a lively menu. We'll have a special tasting before dinner of either local produce, herbs or cheeses with Ricardo, a passionate painter and locavore, turned restaurateur.
Overnight – Corral del Rey
APRIL 25, 2016 (MONDAY) SEVILLE, Corral del Rey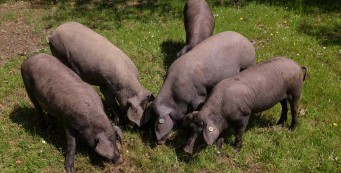 After breakfast on the roof terrace, we will board our bus to the Sierra of Aracena, to visit a farm to see how the local, Iberian pigs are reared free-range in the village of Jabugo, a mythical name in Spain for fine ham. We will taste some of their wonderful ham, along with a glass of fino before enjoying lunch: fresh, local produce including local cheese, ham, mushrooms, Iberian pork, and delicate seasonal fare.
Returning to the Corral del Rey, we will have the afternoon free to relax or explore the old part of town. In the early evening we'll be treated to a lively flamenco show. Afterwards, the evening will be free to enjoy dinner on your own (nearby recommendations will be provided).
Overnight – Corral del Rey
APRIL 26, 2016 (TUESDAY) SEVILLE'S OUTSKIRTS, Hacienda de San Rafael
After breakfast, we will venture to the local food market where we will gather ingredients for a cheese tasting, before having some free time for shopping or walking around the city. Before lunch we will depart the Corral del Rey for our next location: the Hacienda de San Rafael.
Formerly a thriving olive estate, the Hacienda has been restored and today is a privately-owned hideaway, offering us a balance of rustic charm and modern sophistication. Its bougainvillea-draped courtyard will be center stage to our days here, offering a sense of romance and deep relaxation.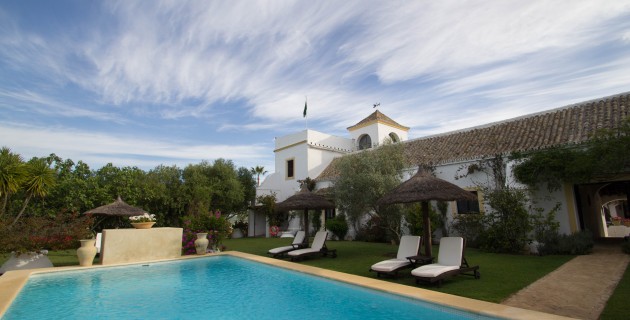 The Hacienda has been in Anthony's mother's family for many generations. When she inherited the estate, it included a working farm and 400-year-old hacienda that became derelict over time. Over the next 21 years, she brought the property back to life, restoring it as a true labor of love. The main building was renovated and gardens were planted: today we are welcomed onto five acres of gardens and fruit orchards, including three swimming pools and an organic garden with a wide selection of vegetables. The estate also produces their own extra virgin olive oil. A designer by trade, Anthony's mother decorated the Hacienda herself, and continued to host and cook for guests each day for the next 12 years.
Anthony writes, "Our philosophy is simple: to create a homely and relaxed atmosphere with our team from the local village. To create an authentic Andalucian experience." Today, their chef Isabel, from the local village nearby, is an integral part of the operation.
Upon arrival at the Hacienda, we will be welcomed with lunch followed by some time to relax by the pools or in the gardens.
Dinner will be served in the courtyard or the dining room depending on weather.
Overnight – Hacienda de San Rafael
APRIL 27, 2016 (WEDNESDAY) SEVILLE'S OUTSKIRTS, Hacienda de San Rafael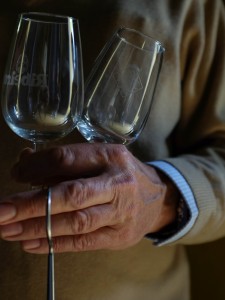 Each morning at the Hacienda, we will each enjoy breakfast in our private verandas overlooking the shared bougainvillea-filled courtyard — an exquisite basket of breads and other treats delivered straight to our door.
After breakfast, we will travel to Jerez to visit its famed sherry bodegas. We will enjoy a private visit to Bodegas Lustau, one of the oldest and most prestigious bodegas in Spain, founded in 1896 by Don José Ruiz-Berdejo. After our visit we will sample their whole line of sherries to discover our own favorites. Peggy's is palo cortado, but which one will you prefer?
Fresh from Sherry tasting, we'll go for lunch before heading into the kitchen for a cooking class as we are invited into the very private kitchen of chef Isabel at the Hacienda San Rafael. By this time, you will be drooling to enter into her domain.
Isabel is one of those rare chefs that comes from the local village, full of her grandmother's secrets and a palate focused on the subtleties of local ingredients. Her finesse comes from the tutelage of Anthony's mother, Kuky, Señora Mora Figueroa, a cook of note. We will focus on the role that sherry and wine take in cooking and prepare a variety of dishes. Optional pre-dinner drinks back at the Hacienda, followed by a light supper in the courtyard.
Overnight – Hacienda de San Rafael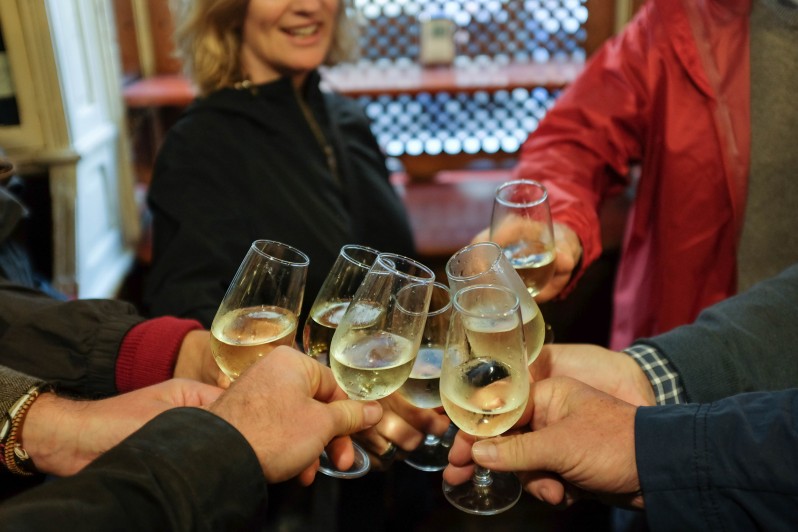 APRIL 28, 2016 (THURSDAY) SEVILLE'S OUTSKIRTS, Hacienda de San Rafael
This morning we will visit an aristocratic bull farm often visited by the Spanish royal family, el Cortijo De Arenales. Almudena de la Maza, one the farm's owners and managers, will show us around the bull farm ~ a piece of Andalucian history not to be missed. Almudena is one of the most dynamic women in Andalucia, a sherry expert with an aristocratic upbringing and a wicked sense of humor.
After our visit to the farm, we will get a chance to take a peek into the farm's kitchen as the farmhouse cooks prepare oxtail soup. Afterwards, we will relax on the gardens as we enjoy lunch on the estate. Almudena will also open her liquor cabinet and share with us some of her favorite sherries.
Once again, optional pre-dinner drinks back at the Hacienda, before enjoying a light supper on the terrace.
Overnight –Hacienda de San Rafael
APRIL 29, 2016 (FRIDAY) SEVILLE'S OUTSKIRTS, Hacienda de San Rafael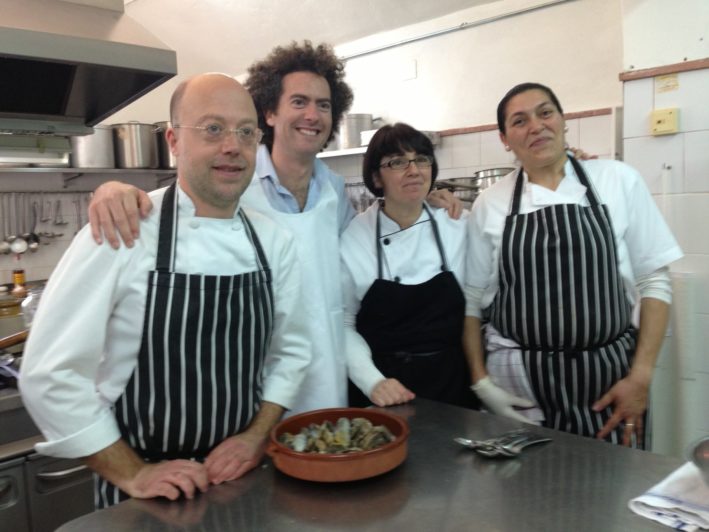 This morning, we don't have to go very far, as we are invited back into Isabel's kitchen at the Hacienda San Rafael. Isabel and her team will share with us the secrets behind some of the local delicacies and we will prepare a variety of dishes that we will enjoy later for lunch. Weather permitting, we will enjoy lunch al fresco enjoying views of the beautiful Andalucian plains surrounding the hacienda.
The afternoon is free to take a walk through the countryside, sit poolside, pack your bags, etc.
This evening, pre-dinner drinks will be offered in the gardens, before we gather for our farewell dinner.
Overnight – Hacienda de San Rafael
APRIL 30, 2016 (SATURDAY) SEVILLE'S OUTSKIRTS, Hacienda de San Rafael

Breakfast on our private verandas, followed by group transfer to airport in Seville. Guests are advised to book flights departing after 1pm on this day.
BUEN VIAJE. OLÉ!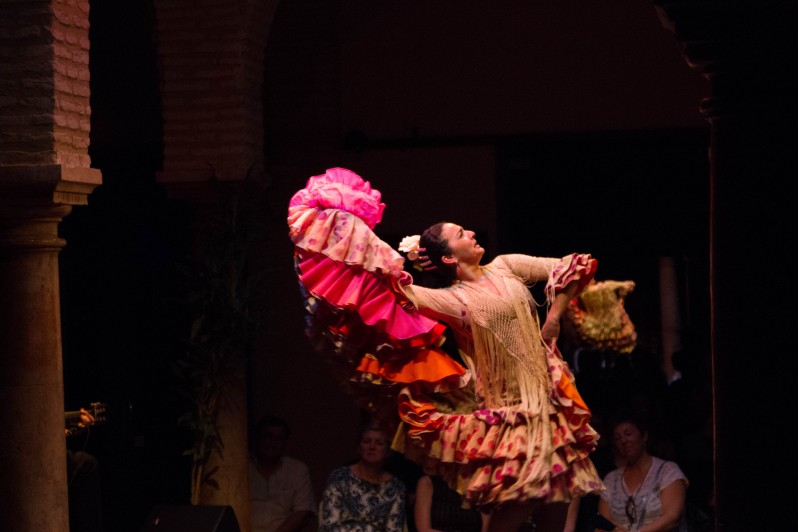 Photo credits:
Peggy Markel and Stephen Smith