September 21-29, 2016
Sicily itself is off the beaten path for most travelers. For those of us who have known and loved her for years, and yearn to push the envelope, there are the Aeolian Islands—located North. Bathed in Mediterranean sunlight, seven islands dot the sea; one more notable than the next.
On Myth and Malvasia in the Aeolian Islands, we will coil our way through this dramatic region, from ancient coastal fishing villages to the striking island of Salina. Imagine the mouth feel of mineral wines, and the red glow of nightly volcanic rumblings. During Peggy Markel's newest culinary adventure, you will glimpse into a slower pace of life.
Arabian eggplants, giant lemons, saffron, and cherry tomatoes are cherished inhabitants of the islands' volcanic soil. Yet local artisans are not only masters of their gardens; sample breads, cheeses, and pastas too—all "fatto a mano". You will notice windblown capers sprouting from craggy stone walls. Revel in the natural fascination as we learn how to include the capers in terroir-driven dishes. There is a depth and concentration of flavor in the Aeolian vegetables and herbs. Such vibrancy on the palate can be traced to difficult growing conditions.
Local villages were designed to invite, as well as protect against daunting winds and marauders—giving a healthy reticence to their warm hospitality. We will visit friends on their family estates, get our hands in the food, tell stories, and sip the sweet magic in a glass of Malvasia and other Sicilian varietals. The rest will be a shared exploration of the elements at hand. Earth. Water. Fire. Air.  Once we witness them firsthand, we can begin to understand how they shape the soul of the land.
Island people are strong, particular, and authentic; not unlike the taste of things. Bet on a few poems and Greek myths, as well as collaborations in famous kitchens. We will cook with Chef-author Fabrizia Lanza and Michelin-star Martina Caruso, among other spirited peers, and share in the rustic sweetness of island life. There will be a private boat ride around Salina, overlooking the nearby volcano. Feel the soft movement of the water beneath us, as we gaze at Stromboli and the nearby islands of Alicudi, Filicudi and Panarea. There's an exaggerated sense of timelessness here, where the Greeks roamed and found representations of their mythology. You can sense it in the air. If you listen carefully, you can hear the "Keeper of the Wind", Aoelus, blowing his conch.
Strong and elemental, Sicily retains an unconquered character and a romantic spirit, and you can taste it in her food and wines. Aeolian dishes draw on history but abound with independent ideas and innovative interpretations.
Thank you for wanting to explore Sicily and the Aeolian Islands with us! We look forward to sharing our passion for place with you.
Itinerary at a Glance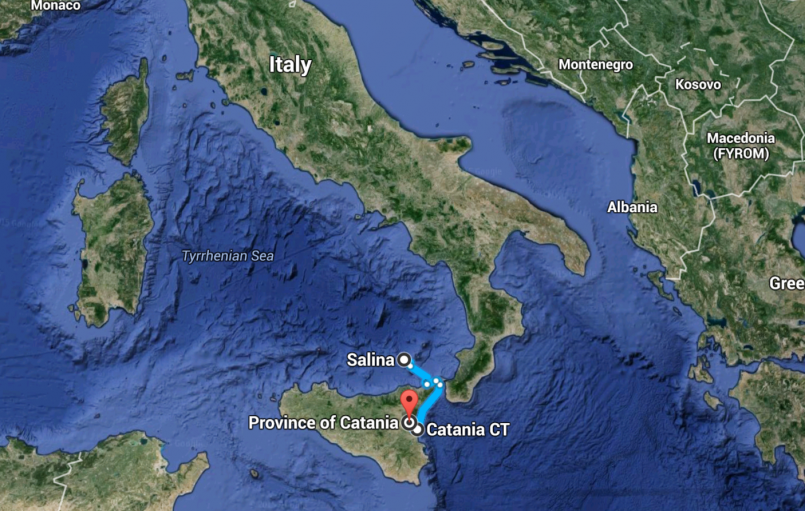 Detailed Itinerary (subject to change)
Wednesday, Sept 21  – Arrival Day
Night at Hotel Donna Carmela – Catania
During the day, guests can check in to the elegant Hotel Donna Carmela at their leisure; located on the outskirts of Catania, somewhere between the sea and the foot of Sicily's famous Mt. Etna volcano. Relax in the gardens or at the pool as you adjust to the change in time zones.
6:30pm Gather for an aperitivo and a chance to meet the rest of the group. We will enjoy a fabulous dinner at the hotel, before wandering the candlelit grounds.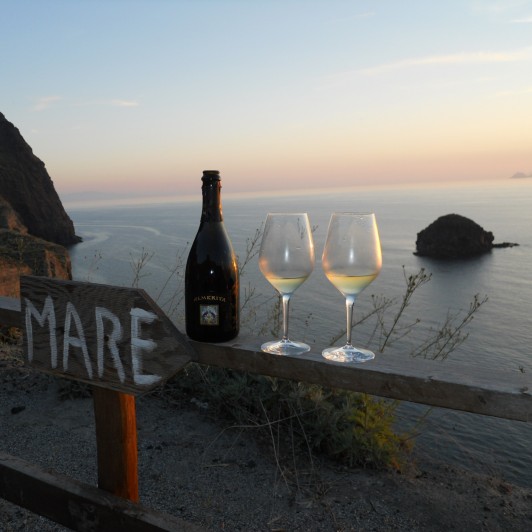 Thursday, Sept 22  —  Off to Salina
Night at Hotel Signum — Salina
After breakfast we will travel to the northern port town of Milazzo and depart to the island of Salina. The ferry crossing takes less than two hours offering stunning views of azure seas and coastal life.
We'll get acquainted with our charming boutique accommodations at Hotel Signum and visit their world class spa—enveloped in scents of citrus and jasmine. Optional spa services are available for a discounted rate. Natural hot springs feed the outdoor wellness area, which features circulation-stimulation wading pools, a large whirlpool bath, pools, and a steam-stove in a 'tholos'—a replica of an antique Mycenaean stove found at the hot springs in San Calogero, on the island of Lipari. A great way to relax into the next stage in our adventure.
In the evening we will gather together on the terrace for a cocktail to enjoy panoramic views of the setting sun. We'll meet the staff Sommelier and talk island wine, before enjoying a multi course menu designed especially for our circle by Chef Martina Caruso, a young but extremely accomplished chef who recently was awarded her first Michelin Star. Seasonal raw materials give inspiration to simple, flawless dishes.
Night at Hotel Signum — Salina
After a terrace breakfast we will enjoy a very rare treat: a glimpse into the small kitchen at the Hotel Signum where all the magic is created. We will start with a conversation with Signor Michele Caruso, the hotel proprietor and former Chef. He's an island native who started the hotel 25 years ago with his wife, and still wakes up early every morning to bake the breakfast pastries. Afterwards, he will be joined by his daughter, Chef Martina, for a cooking demonstration. Together they will share with us traditional Aeolian dishes in an interactive cooking class,  followed by a delicious lunch on the terrace.
This afternoon we will meander the streets of Salina, visiting its quaint shops and boutiques and sampling the delicious local granita as the sun sets on the island. Delectable dinner to follow.
Saturday, Sept 24 – Capofaro, Salina
Night at Capofaro Malvasia & Resort — Salina
After breakfast, we take off to the seas as we sail around the island of Salina for a unique view of its beauty from the vantage point of the water. Take a dip in the ocean if you so desire, or simple be lulled by the waves and enjoy the afternoon. We will toast the island spirits, our good fortune and each other's company before moving onto our next destination, still on the beautiful island of Salina.
This afternoon, we will meet our friend Fabrizia Lanza at her family's Capofaro Malvasia & Resort. This environmentally-sensitive working vineyard and winery houses an 18-suite luxury refuge for its visitors. With its spectacular natural setting, Capofaro offers nothing but sea, sun, gardens, vines, birdsong and beauty, leavened by the very best Mediterranean food and wine and the discreet pampering that has made it one of Italy's most sought-after island getaways.
In the evening, we will share a delicious welcome dinner with Fabrizia at Capofaro. Fabrizia will be our dynamic host for following two days. Fabrizia and Peggy are close and have known each other for years. A renowned chef and cookbook author, Fabrizia has a special interest in traditional Sicilian cooking and preserving recipes, methods and local customs.
Sunday, Sept 25 – Capofaro, Salina
Night at Capofaro Malvasia & Resort — Salina
After breakfast we will join Fabrizia to visit a local caper farm to understand how they are harvested, cured and preserved.  Capers and the larger caper berries are the pride and joy of the island and appear prominently on the local cuisine. Afterwards we will head back to Capofaro for a light lunch showcasing Aeolian ingredients.
In the early evening we will step into the kitchen at Capofaro for our first cooking lesson with Fabrizia. After preparing some Tasca family recipes together, we'll sample some fabulous Sicilian wines and enjoy dining al fresco.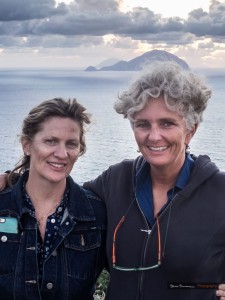 Monday, Sept 26 – Capofaro, Salina
Night at Capofaro Malvasia & Resort — Salina
After breakfast we will walk through the vineyards and learn more about Malvasia, the local grape that is featured in both dry, mineral white wines as well as dessert ones. We will meet the Sommelier and of course, sample and taste.
Like yesterday, we will enjoy a light lunch at the resort before relaxing by the pool, reading, getting a massage or maybe joining a yoga class (additional charges apply).
In the evening we go back to the kitchen for another hands-on and demonstration cooking class featuring the best Aeolian ingredients. Dinner under the stars overlooking Panarea and Stromboli in the horizon.
Tuesday, Sept 27 – Back to Catania
Night at Hotel Donna Carmela — Catania
We bid farewell to Fabrizia and the Aeolian Islands as we start our return to Sicily. After breakfast, we will take the ferry. We will wind our way back from the port town of Milazzo to  the charming town of Taormina with its Roman Amphitheater, medieval and baroque buildings and its exciting little shops and restaurants, where we will enjoy a late lunch, and gelato of course!
Early evening at the Hotel Donna Carmela to get ready for an early morning the next day!
Wednesday, Sept 28 – Fish Markel and Planeta Winery
Night at Hotel Donna Carmela – Catania
After an early breakfast at the hotel, we will set off on a great adventure: the fabled fish market in Catania. An experience not to be missed, we will walk around the stalls and come face to face with myriad of Mediterranean fish, crustaceans and other indigenous characters. A really fun way to start our last day of Culinary explorations.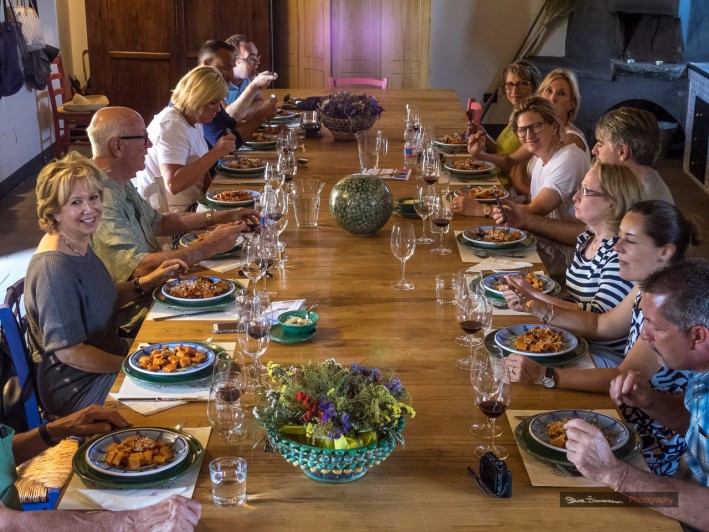 Later on, we have arranged for a tour of the renowned Planeta Winery on the green foothills of Mount Etna. A new winery production and tasting building has recently opened, and we will get a glimpse of it. We will be hosted for a private tour of the vineyards and the new production facility, a wine tasting, and a multi-course lunch. After our lunch we will retreat to our hotel to relax, gather our thoughts and maybe take a nap to make up for the early start.
In the evening we will gather for our farewell gala dinner back at the hotel.
Thursday, Sept 29 – Departure Day
Breakfast and departure from Catania airport.
Buon Viaggio, our Friends!
September 21-29, 2016
9 days / 8 nights
Lodging Information:
Hotel Donna Carmela, Catania: 3 nights (split)
Hotel Signum, Salina: 2 nights
Capofaro Malvasia & Resort, Salina: 3 nights