To journey is to take a trip in and out of oneself, to engage with others and see how they live. Every new experience and landscape reaches into unknown parts of us. It encourages us to see the world through eyes wide-open, to embrace it and feel our belonging.
Travel is deliciously transformative. It cooks us in a good way, like fire and salt. To engage with other cultures through food is primal. It's deeply connecting to break bread and stir a pot in an unknown land with a trusted insider.
Step into our global conversation for a glimpse of "ordinary magic." Drop beneath the surface. Savor these destinations with pleasure and curiosity. Our table is waiting in far flung fields, wine estates, villas, villages, on boats, in homes and on the streets.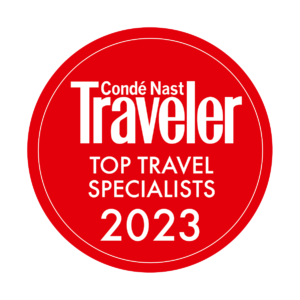 We are proud to announce that we have been awarded Conde Nast's Top Travel Specialists for the 3rd year in a row! "Only a select few are given this admirable accolade, awarded to whom they deem the "right experience maker" who will "intuit your desires before you even know what they are" — then they'll make them happen."
~ Paul Brady & Christine Cantera, Conde Nast