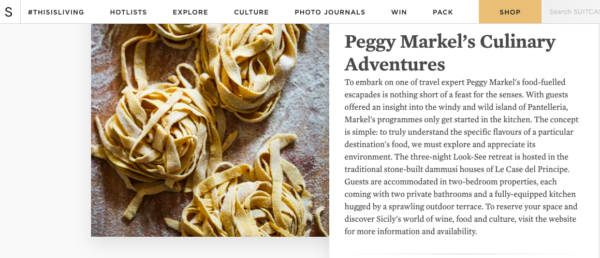 To embark on one of travel expert Peggy Markel's food-fuelled escapades is nothing short of a feast for the senses. With guests offered an insight into the windy and wild island of Pantelleria, Markel's programmes only get started in the kitchen. The concept is simple: to truly understand the specific flavours of a particular destination's food, we must explore and appreciate its environment.
The three-night Look-See retreat is hosted in the traditional stone-built dammusi houses of Le Case del Principe. Guests are accommodated in two-bedroom properties, each coming with two private bathrooms and a fully-equipped kitchen hugged by a sprawling outdoor terrace. To reserve your space and discover Sicily's world of wine, food and culture, visit the website for more information and availability.
Read full article here.