In a small square in Marrakech, where the crotchety veiled ladies sell crocheted hats, the sun beats down on caged chameleons, good luck garden turtles and henna sifters. It's midday, 30 degrees celcius and the Marakchi (the people of Marrakech) are at home in their skin.
It's a bizarre bazaar. Talismans, gourds, furs and long amber necklaces hang down from the spice shops like a string of plump Turkish figs. Walking into any one of these shops will suck you into a vortex that one is likely never to escape empty handed or sober. You leave at least drunk on smelling the various heady perfume blocks of amber and jasmine or the overwhelming swoon of ras-al-hanout, a house blend of at least 11-35 spices.
In their white coats, slightly grey with age, you will hear a well practiced monologue of the benefits of both the medicinal and the culinary that will cure you of practically anything. Common household herbs and spices can cure cancer. Cumin, turmeric and saffron are wonder drugs, more effective than prescriptions for diarrhea, inflammation, headache, stomach ache, fever and passing kidney stones. If that doesn't work, the 'head of the shop' can make you a personal melange that will cure what ails you, enhance the power of love and the flavor of your cooking as well.
The sky is a potent blue and the French dot themselves in small cafes and sun themselves 'rouge' in skimpy tank tops and sunglasses, happily smoking in public. Coca-cola bottles written in Arabic, grace the knee high wooden tables with colorful ashtrays that double as a place to catch olive pits.
Miniature Moroccan tin tea pots glisten in the sun, poured into small glasses stuffed with mint. The teapot shape is esoteric, with a pear shaped bottom and elegant spout. The handle is half-hearted and always too hot to hold. A small woven hot pad, looking like a gnawa musician with black face and fez, keeps ones hand from burning. Some times these hot pads are given names like Stiu Stiu and are called 'my brother'. "Here, Stiu Stiu, my brother, will pour you some tea." From up high the amber colored tea pours in a smooth thread into a miniature glass etched in gold.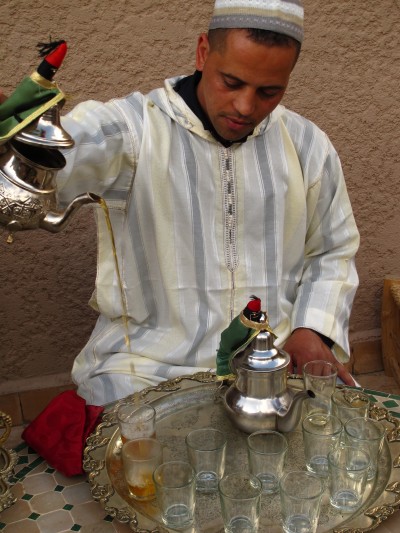 The tea is sweet. Sugar is the great pleaser, the peacemaker between bitter and acidic. It's no easy feat to make the tea. The water is boiled. The tea is scooped from an ornate metal box and measured into the tea pot. A glass full of hot water is poured in and poured out of the tea pot immediately and set aside. Another glass of hot water is poured in and swished around in the tea pot. The tea is again poured out into a glass. This time it's a dark, opaque green, almost black. The tea has now been properly cleaned. This glass of 'dirty' tea is tossed out. At this point, a large chunk of sugar is put into the tea pot, as well as a large handful of fresh green mint. Finally the tea pot is filled to the brim and put on a flame for a few minutes. This brews the tea and helps the sugar to melt. Taken off the fire, the tea pot is set once again on the table. One glass is filled and poured back in, this happens a few more times. Now the tea is ready. The tea pot is lifted ceremoniously high and purposely poured into the glasses below, creating tea foam~ a natural process of oxygenation.
Moroccan service is gentile and invisible. Their gestures are shy, yet deliberate. They are barely audible, so careful not to disturb. With melodic names like Noureddine, Ishmael, Monim and Majid,  they lead with their hearts in true service to you. Your wish is their command. If you want a tisane, an herbal tea, they will go into the garden to fetch fresh herbs. They stand ready to please. I've heard Indians treat their guests as a god. Here they treat you like a Queen. It's easier. They may honor the King, but they worship the 'mother'. "Here you are at home~" they say…and I feel like it.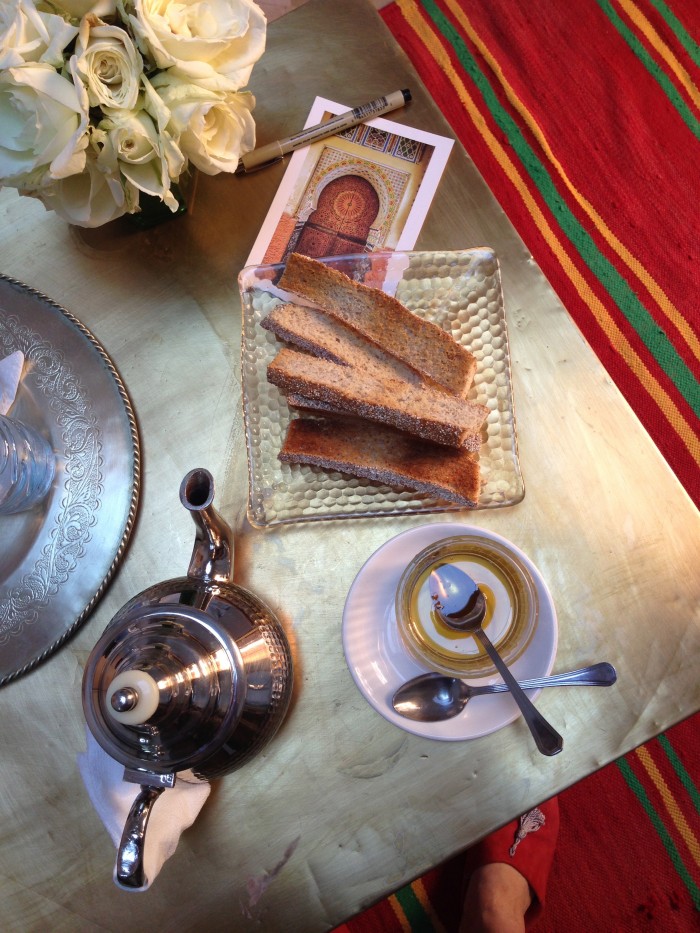 Learn more about Peggy Markel's Culinary Adventures and Slow Food Tours. Click here.