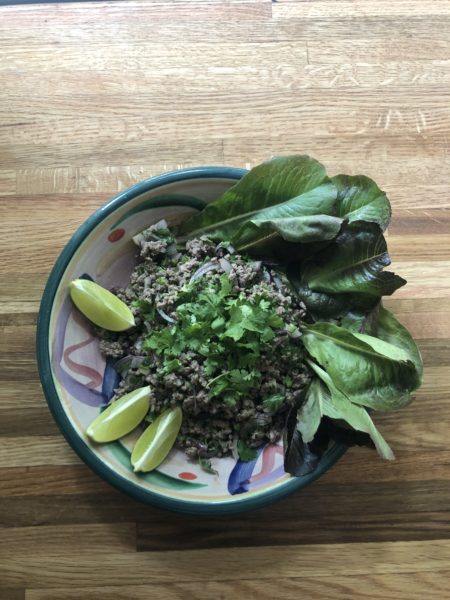 What you see is more delicious than it looks. Larb is a Thai salad that I love to make in the summer. It's cool, spicy and tangy.
.
Walking the streets of Bangkok in the heat begs you to duck into one of those small barely covered cafe's and slurp spicy Tom yam Kung. So counter-intuitive to eat when you are dripping with sweat. But it works. The spice delights and cools you down. But sometimes, I prefer something a little meatier. A protein lift that is cool with generous lime, chili and cilantro. You fill a lettuce leaf and crunch into this juicy, limey, toothsome wrap, swigged with a frosty Thai beer and sigh. Ready to hit the streets refreshed. Tuk! Tuk!
1 pound of ground meat. It could be lamb, beef, chicken or turkey
1 or 2 serrano or jalapeño peppers
3 limes, juiced
1 fresh red onion, fresh if possible, cut in thin half moon slices. Half for sauteing, half for adding to the salad, raw.
1 bunch of cilantro, chopped finely
1 T olive oil
good salt and pepper
Put a drizzle of e.v.olive oil in a pan. Add half of the onion and sauté. Add the ground meat of your choice and brown.
Add salt and pepper . Put in a bowl.  Take the other ingredients that you have chopped and juiced and add them to the bowl. Correct for seasoning. Enjoy! Sawadee Ka!