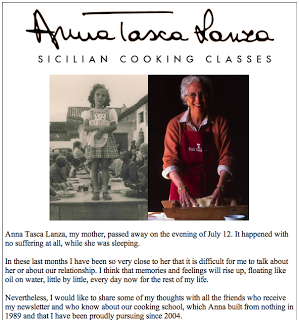 There is much to say about Anna Tasca Lanza. My affection and respect for her is immense. It will take me a while to digest and post a proper tribute. Here is her daughter Fabrizia's moving account of her mother's last days for all of those who knew her.
…………………………………*……………………………………
Anna Tasca Lanza, my mother, passed away on the evening of July 12. It happened with no suffering at all, while she was sleeping.
In these last months I have been so very close to her that it is difficult for me to talk about her or about our relationship. I think that memories and feelings will rise up, floating like oil on water, little by little, every day now for the rest of my life.
Nevertheless, I would like to share some of my thoughts with all the friends who receive my newsletter and who know about our cooking school, which Anna built from nothing in 1989 and that I have been proudly pursuing since 2004.
The first sign of my mother's illness was that she was not willing to cook anymore. She completely lost her appetite, and when I went on holiday last summer, I found upon my return that Mum and Dad had simply stopped eating, a fact complicated by the heat, the loneliness, the loss of enthusiasm…. The moment I came back I suddenly found myself inverting the usual familial roles; I had to start cooking for my parents and found that it wasn't simple at all!
Mummy was fussy, like anyone who has lost her appetite and doesn't feel like eating anything but a very few and precious things. I realized I had to catch up with food, which in my childhood had meant comfort food for both of us, the food we used to eat on the blue table of the kitchen when Dad wasn't home (he hates peasant food!)…Anna and I, whispering and giggling together about anything we talked about.
At that point I realized that these comfort foods were the only things my mother would enjoy eating: capellini in brodo con la ricotta, spaghetti con la salsa, fave bollite, gazpacho, pasta con le zucchine fritte, minestra di zucchine e tenerumi, plus an endless variety of sweets, which she had always adored: lemon curd, taralli, blancmange, almond brittle, chocolate mousse. In fact, what she most demanded in her food was love, and I would use "all my love" as the main ingredient.
In her last month she was completely out of the world of food, managing only fruit juices and pistachio and walnut ice cream. She wouldn't talk, she wouldn't open her eyes. Now and then she would move her right arm or squeeze my hand very gently when I told her about my children, Ruggero and Virginia. I was afraid to experiment with foods because she very quickly got tired with our timid feeding temptations.
One day I decided I would dare something new, since she had always had a love for fresh, rather acidic and sweet flavors. With the fresh citruses from the garden, I made a lemon granita.
She ate it, and in a whisper she said, "Squisito."
This is the last comprehensible word I recall my mother saying. I love her so much for this last present, for being capable of appreciating quality and pleasure up to her last moments…I will never forget it.