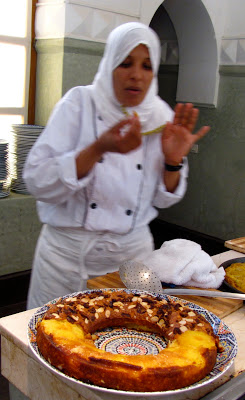 Bahija Lafredi's sensibility for the extraordinary in food, never ceases to amaze me. It comes easy to her.  Unpretentious in her kitchen whites or traditional tunics, she is like a neutral book cover to a colorful, classic novel. Full of surprises, her imagination takes something as simple as a sponge cake and dresses it to the nines with a flip of the wrists.
This basic pineapple upside-down cake came out of the oven beautifully caramelized and mouthwatering. It would have pleased a Queen. Then Bahija said, 'but if you like, you can turn half of it over'. The underside was studded with dates and almonds. Quite a contrast to the yellow caramelized pineapple. She studied it for a minute, then got an idea to quarter it. What started out as a festive cake, now became more so ~ A work of art and a feast for the eyes.
Cooking is not always about following a recipe. It's about learning to follow someones way of seeing.
BAHIJA'S PINEAPPLE UPSIDE-DOWN AND TURNED-AROUND DATE CAKE
9 eggs
200 grams flour (1 cup
200 grams of butter
100 grams of sugar (1/2 cup)
6-8 apples ( pears optional)
1 pineapple

1 cup of sliced, pitted and chopped dates
1 cup of slivered almonds
2 T orange or strawberry marmalade
2 T baking powder|
a pinch of sal

caramel sauce:
100 grams sugar
Melt the sugar on a low flame until it turns a clear light brown. Pour the sauce to coat the bottom of a ring mold, or springform pan. (Caution! Sauce is very hot!)
Slice the fruit and put around the pan. Pineapple first, then the apples.
Batter:
Beat the eggs with the butter, salt and sugar.
Mix baking powder with the flour, then add to wet ingredients and mix well.
Pour the batter over the fruit. Decorate the top with the chopped dates and almonds.
Bake for 30 minutes at 350F. Check for doneness with a toothpick. Invert the cake carefully!
If you want to make the presentation more interesting, cut the cake in quarters and turn only half of it over. You will have pineapple upside down cake on one side, and dates and almonds on the other.