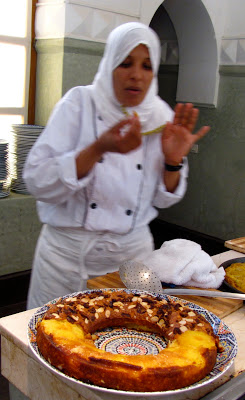 Bahija Lafredi's sensibility for the extraordinary in food, never ceases to amaze me. It comes easy to her.  Unpretentious in her kitchen whites or traditional tunics, she is like a neutral book cover to a colorful, classic novel. Full of surprises, her imagination takes something as simple as a sponge cake and dresses it to the nines with a flip of the wrists.
This basic pineapple upside-down cake came out of the oven beautifully caramelized and mouthwatering. It would have pleased a Queen. Then Bahija said, 'but if you like, you can turn half of it over'. The underside was studded with dates and almonds. Quite a contrast to the yellow caramelized pineapple. She studied it for a minute, then got an idea to quarter it. What started out as a festive cake, now became more so ~ A work of art and a feast for the eyes.
Cooking is not always about following a recipe. It's about learning to follow someones way of seeing.
Continue reading…