In Venice on the vaporetto, I passed this boat with the name of Citta di Chioggia'. Chioggia is a mini-Venice located on a small island at the southern entrance to the lagoon, which I passed coming in from Croatia, amazed how long the lagoon stretched before we actually arrived close to the center. A water world of canals and boats, Chioggia is also known for its unique beet.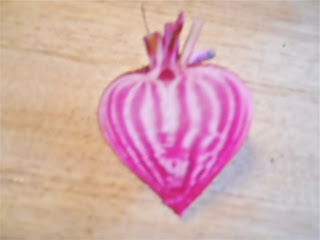 Red and round on the outside doesn't mean you can judge a beet by it's color. Upon slicing it, one's eyes marvel at the red and white spirals, not unlike that of a pinwheel that's gotten going. It gives a touch of carnivale to any dish. I like to cut them top to bottom sometimes, so they look like the painting of a flaming heart in the Sacred Heart of Jesus by Jose Maria Ibarraran y Ponce, 1896, that you find in prayer nooks along pathways in Spain, lit with a candle.
I found it puzzling that something as earthy as a beet could have come from a place that seems to be all water and concrete. "There must be earth here somewhere," I thought. If I hadn't been recently invited into a home with a small garden, I would have remained skeptical. Chioggia is also known for radicchio and other sea-faring gastronomic pleasures, like deep-fried baby soft-shell crabs.
Outrageously delicious and entertaining, I quite like to eat these bull's eye beets alone. I'm not one to fuss all of the time, especially when jet-lagged.
Just a day after arriving home, I popped into the Boulder Farmer's Saturday market and bought a few things, including carrots and beets from my friend Pete of Oxford Gardens. When I got home and cut into the marvelously heart-shaped beet, it spoke to me. Talk about alluring. It drew me in like the snake's eyes in the Jungle Book that hypnotizes with the song…"trust in me"…only my beets sang in Italian. Too tired to give it a party, I threw it into the pot with a few of O.G.'s carrots.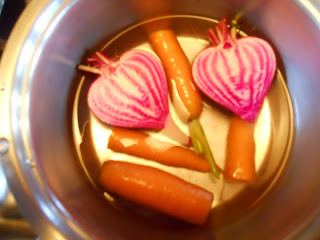 I wanted only to drizzle them with olive oil and salt, eat them quietly and go to bed. Which is what I did.
If you would like to cook some beets of your own, go see Pete at Oxford Gardens. If you would like to have them cooked for you, go see Dakota at Café Aion, his new restaurant on the hill . He roasts them and crumbles goat cheese on top with a few pumpkin seeds, if I remember correctly. A drizzle of e.v. olive oil is mandatory.
I think the next time I'm in Venice, I will prepare a bowl of beets to take on a gondola ride. The stripes will match the shirts of the gondolier. I'll appreciate the singing of both.
Thanks for reading! Here are some more posts we think you will enjoy:
Learn more about Peggy Markel's upcoming Culinary Adventures. Click here!