I have mused about and written many blogs about this peach pie. Read about it here and here.
Make it yourself and you will see why.
Ingredients:
Crust:
– 2 cups of unbleached white flour
– 1 and a half sticks of butter
– A few Tbsp of cold water
– Pinch of salt
– Cream

Filling:
– 6 organic peaches, skins left on, sliced
– 1/2 c sugar
– 1 lemon, sliced in half
– Cream to whip and put on top is optional
– Tart pan or wide edged ceramic bowl
Preparation:
Put together your pie dough by cutting butter into your flour with two knives (or use a Cuisinart, pulsing the blade to cut the butter into the flour). Add a pinch of salt. Add cold water a tablespoon at the time to bind the dough together. Form into a ball. It should feel like a "babies behind." Put it in the fridge for 1/2 hour.
Meanwhile, slice peaches into a bowl. Add sugar to taste and 1/2 of a lemon, juiced with your hand. Set aside.
Take out the dough and flatten it with your hand on a floured surface. Roll out the dough, starting from the center and rolling out in all directions until you have a thin round. It will be large. The point is to have enough to drape over the fruit. Center it over your tart, pie plate or open ceramic bowl.
Preheat oven to 400°F. Fill the dough with your peaches. Add a sprinkle of flour and 4 or 5 pats of butter. Fold the excess dough over the fruit like you were covering bread in a cloth. Brush the dough with a beaten egg.
Put in the oven on the middle rack and bake for 45 minutes to 1 hour. Check when you smell the fruit cooking. The crust should be golden. Let cool.
Final step: Enjoy.
Recipe Credit: this recipe was originally learned years ago from Martha Stewart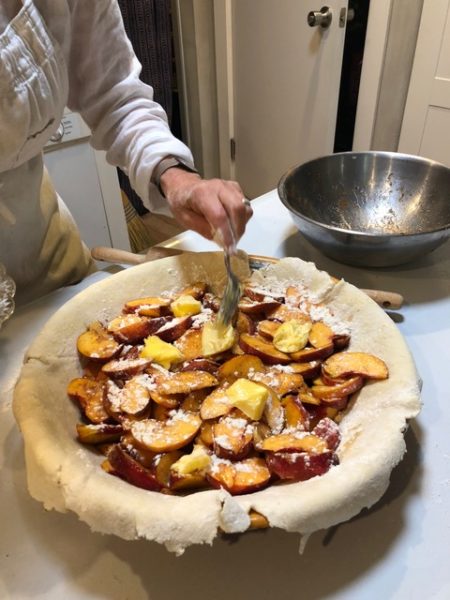 Here are some more posts we think you will enjoy:
Learn more about Peggy Markel's upcoming Culinary Adventures. Click here.