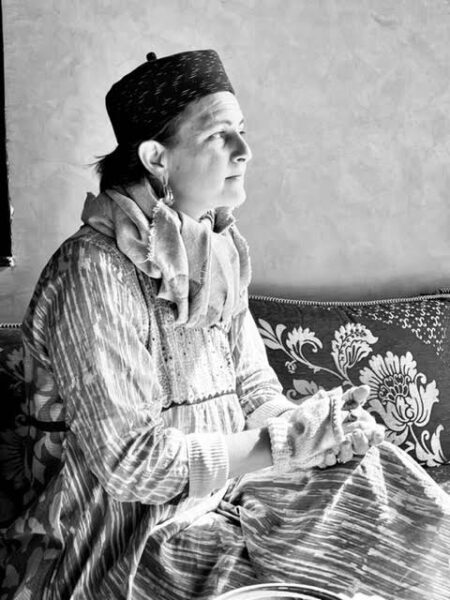 This is not a picture from the 1800's, even though it looks like a photo of someone who just stepped off the Orient Express. It is rather a photo of my friend Emma Louise Sophia and this is just her normal attire as a seasoned traveler. She's a gifted photographer, seeker and mother of three. Granted we are in Morocco and one has poetic license to mix and match, especially when visiting Berber villages in the Atlas mountains. We are co-creating a creative-contemplative -culinary adventure. We have spoken about it for years and found ourselves in Marrakech at the same time to explore ideas. Today we wandered the hills photographing and filming the landscape in and around the village of Aremd. Pure springtime was bursting with waterfalls and fresh green barley growing on the terraced hillside. Lambs and baby goats were scampering near their moms and blossoms were budding on the trees. A most extraordinary day to celebrate Equinox.
The patience it takes to set up the shots and get it right is all part of the creative process. It felt nothing short of documentary. Walking in the rare mountain air so close to the mighty Atlas was breathtaking, capped off by tea in the village with a sweet Berber family. A walk down through the sacred walnut grove gave us a chance to catch our breath and gain some clarity on deepening my existing program to include more in-depth inquiry and creative expression. Would this interest you?
Spring equinox. A perfect time to plant creative seeds.
This photo was taken at breakfast as she was.