Guest Chef Evening: A Summer Taste of Sicily with Fabrizia Lanza and Peggy Markel
Join Peggy and Fabrizia Lanza, longtime friend and one of the hosts of our Sicily: A Different Italy program for a special evening of Colorado flavor and Sicilian soul. Serving as guest chefs, the two women will design and present a special a la carte menu for guests.
When: Sunday, July 28, 5:30-10:00pm
Where: The Kitchen Upstairs, Boulder, CO
Reservations: please contact The Kitchen Upstairs to reserve a seat: 303.544.5973.
Walk-in seating will also be available throughout the evening on a first-come, first-served basis.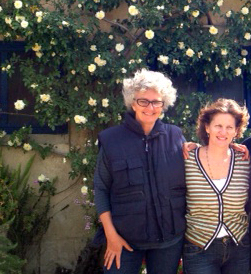 We've worked closely with the Anna Tasca Lanza Cooking School
for twenty years
. The hills of Regaeali welcome us each season like a second home. Our guests always settle in quickly to the pace of life on the wine estate, relishing in the freshness of the ingredients grown in its gardens, the evening breeze as we sip wine under the palm tree in the courtyard. Fabrizia Lanza,
successor to this renowned kitchen and garden
at the Regaleali wine estate and a longtime friend, has dedicated her life to continuing the tradition of Sicilian ingredients and traditional dishes. It is not often that we are able to welcome our partners from abroad back home to our community in Boulder, Colorado.
We invite you to join us, to enjoy the bounty of Colorado's peak farming season combined with the deep tradition of Sicily for a truly special evening.
Thanks for reading! Here are some more posts we think you will enjoy:
Learn more about Peggy Markel's upcoming Culinary Adventures. Click here!