Towpath
Recipes & Stories
Lori de Mori & Laura Jackson
My friend Lori de Mori has produced her fourth book –  it's a cookbook, but it's also a story about bravery, doing things right by one's creed and letting everyone who resonates gather in person at her tiny café along Regent's Canal in London, even if there is no takeout. No wifi. No choice of milks. You would have to know it to find it and then allow yourself to go back in time where the most interesting thing to do was look around and enjoy the view, talk to someone or stare at the beauty of a small flower. Lori, American, lived in a farmhouse in Italy for 25 years before she moved to London and still has it. Her innate sensibility must have been inspired from the overwhelming beauty that saturates the Tuscan countryside and the way of life it encourages. Something inside of her was motivated by the hole-in-the- wall wine bars of Florence that have offered such simple pleasures out of a 10 x 10 stall since the 18th century. Not to mention, the beckoning roadside bodegas offering sustenance to pilgrims along the Camino de Santiago de Compostela.  She wanted to create something that combined all three of these places. A little wild, close to nature, intimate. A place people could stop by on their own short "camino" to work by bike or foot and be nourished by a kind word, a smile, a great cup of coffee and unbelievably delicious food. It's a pedestrian café, by no means pedestrian, with tables to sit and enjoy a ray of sunshine or a risky conversation. There are regulars that are known as the Towpath family. I am one of them. Lori is a dear friend that I visit twice a year when I transit from Boulder through London to Florence. I know the heart of this book. If you take time to read through it, it will give you the feeling of what it feels like to stop at the Towpath, take a deep breath and marvel at all of the ordinary magic going on around you.
The recipes are written and produced by chef Laura Jackson, one the most focused, committed cooks that I know. She doesn't talk when she's cooking, so don't try to engage her even though you can see her.  But after hours, this charming artisan will delight in telling you what she loves. Her recipes are full of flavor. I'm happy now to know what inspires her about each of them and try them at home. I wouldn't dare ask her at work. These recipes are love songs as the book is a love letter to living well and simply with the best ingredients available~ namely nature and friendship. I have spent many a day at the Towpath and delight in this tribute. I hope you will too. It's a good story, a great partnership and the recipes will make you more than hungry.
Chelsea Green Publishing. London/Vermont, get them shipped within the USA from towpathlondon.com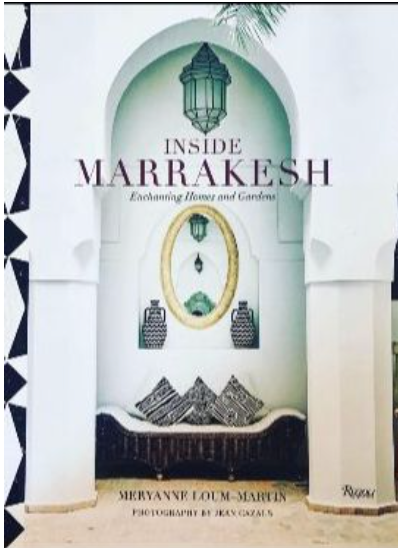 Inside Marrakesh
Enchanting Homes and Gardens
Meryanne Loum-Martin
For those of you that know Meryanne or have had the pleasure of staying at Jnane Tamsna, her private guesthouse in the Palmeraie outside of Marrakech, this book belongs on your coffee table. For those of you that don't know but love Moroccan style, you should as well. Meryanne was on the forefront of Marrakech's modern style movement mixing her French- Senegalese flair and appreciation for textiles and color like a brushstroke on the existing palatte of the pink city since 1985. Her eye for design captured me back in April of 2001. I went back to co-design our program in September of that year; fatefully together on 9/11. I was committed to see the project through. It spoke to every aesthetic bone in my body. We started in 2002, 18 years ago. I continue to make two to three trips a year to host A Feast For The Senses. 
This book contains a fascinating insider's look into the most famous hidden alcoves of private homes, guesthouses, Riads and gardens. Meryanne knows practically everyone and everyone knows Meryanne. Her own highly respected style is an invitation and appreciation by other designers as friends to visit, carte blanche. She features the work of Bill Willis, Yves Saint Laurent, Jasper Conran, Vanessa Branson and a host of other international hotelier and home owners that have fallen in love with Morocco.
"Moroccan culture and decor remain an infinite source of inspiration for interior designers of the moment". Vogue.fr
This book will indeed be a feast for the senses and prominent to peruse. I know many of the houses featured and many of them I don't. I can't wait to sit down with a cup of tea and explore. 
Available in the US through Rizzoli Press. Ask your local bookstore owner, or Amazon.