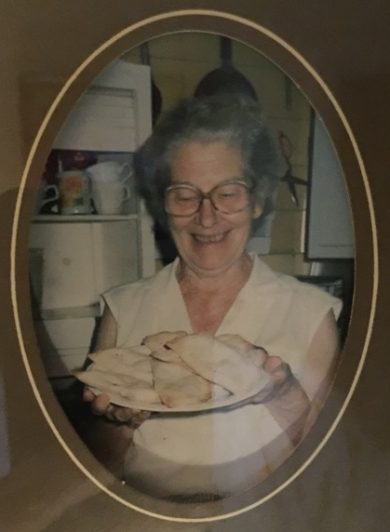 This recipe comes from
my dear aunt Sarah
. You should not attempt to make them before learning more about her first. They will taste so much better with Sarah's memory by your side.
Apple Filling
 Ingredients:

3 cups of dried apples
1 cup sugar
1 cup water
2 t cinnamon
dash of clove and nutmeg
Preparation:
Dry your apples in the back of your car in summer with the windows rolled up.
Put them in a pan with the water and sugar.
Stew until soft. Add  and the spices.
Let cool before spooning onto the dough.
Biscuit Dough
Ingredients:

5 cups of White Lilly all-purpose flour
1 T baking powder
1 T salt
1/2 c mayonnaise
1 1/2 cups buttermilk
Preparation:
Preheat oven to 400 F.
Sift together flour, baking powder, and salt into a large bowl.
Add the mayonnaise and mix together with a spoon then mash with your fingertips.
Make a well in the flour and pour in the buttermilk, stirring to make somewhat of a wet dough. Adjust with a 'dab' more buttermilk if need be.
Turn on to a floured surface or your grandmothers 'biscuit cloth'. Knead a bit. Roll out dough to about a half an inch.
Flour a glass that has a 2 to 3 inch opening. Cut out as many circles as you can. Roll them flat out
thin.
Put your cooled apple mixture to one side of the circle and fold over the dough to make a half moon.
Take a fork and press down all around the curve of the moon. Fork prick the top twice.
Lay out on an ungreased baking sheet. Bake at 350 F for 12-15 minutes.
Let cool. Eat them warm or store them in a tin for as long as you can resist them!