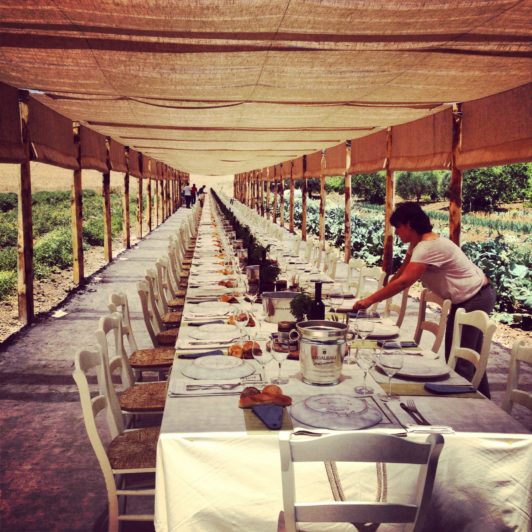 How could I not go back to Case Vecchie for the 25th Anniversary of the Anna Tasca Lanza Cooking School? It wasn't going to be easy. I was on the island of Procida for a sailing trip. I had to jump ship and take a ferry to Napoli, a shuttle to the airport, a plane to Palermo and a train to Valledomo to be picked up for the last leg to Vallelunga and Anna's beloved Regaleali, her family's estate in the very heart of Sicily. Anna died in 2010, and her daughter, Fabrizia Lanza has taken on her role of promoting all things delightful in Sicily- food, festivals, wine, and brought them all together in her own way.
A late summer night greeted me with a warm breeze and a full Sicilian orange-tinted moon. Even though it had taken me seven hours to arrive door to door, I was delighted to walk into the courtyard and find a table of other happy travelers waiting for me. Soon a warm dish of eggplant timballo arrived and a lovely glass of Regaleali bianco. I was glad to have made the journey. After all, we had something important to celebrate.
I sat next to Virginia, Fabrizia's daughter, Anna's granddaughter, who reminded me of Anna tremendously. The first thing out of her mouth was, "my mother tells me that you knew my grandmother well. What was she like as a woman?" After a long day of travel, I had not expected such a deep question. Memories of past visits flooded me. I have been taking people to Anna's Cooking School for 16 years. If I had bothered to count correctly, it could have been coincidentally and figuratively, my 25th time on the 25th Anniversary, and yet here I was, speechless.
When Fabrizia called to invite me to the "grand pranzo" (big lunch) and tell me that she was going to snake a long table through the garden, I knew it was something not to be missed. It was going to be a small gathering, which gave more urgency to my presence. It grew in the end and became a sophisticated event with people coming from all over. My presence was still significant, as many of the people who were coming had never even met Anna or been to the cooking school, which is not really a "school", but more a holistic country learning experience in the Sicilian countryside. Fabrizia calls it "Cook The Farm".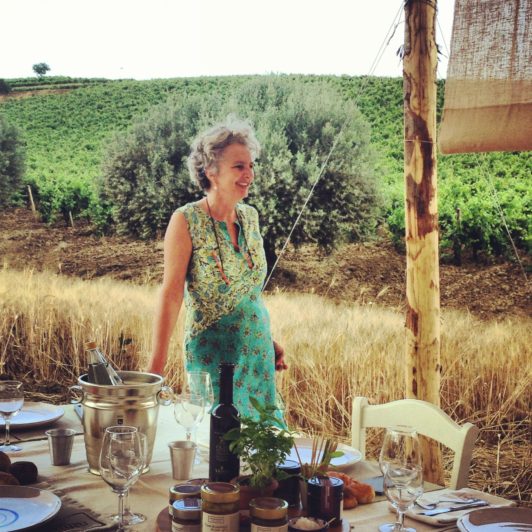 I had already started writing about Anna for a memoir, so to return in her honor seemed more than appropriate, plus I wanted to support Fabrizia. She had stepped into her mother's footsteps reluctantly at first, then blossomed with a handful of fresh ideas for a very traditional, established cooking school, not only keeping it going, but transforming it and infusing it with kryptonite.
Now the day had arrived and here we were, almost two hundred people in the wine and food world, including family, friends and a handful of international bloggers, ready to sit down with each other at a magnificent table in the center of the Sicilian countryside, not in Anna's garden, but in the prestigious vineyards of Regaleali.
Could the table have been a mile long? Dressed beautifully in a continuous white tablecloth, the table was a masterpiece in itself. Buckets of wine from the Regaleali portfolio were dotted down the table as well as a lazy Susan full of tasty Sicilian products from Natura in Tasca, Regaleali's new venture. The concept of the party was to be natural and sustainable. No plastic was used. We ate on one big beautiful hand-made plate, with the 25th anniversary written on the back of it, ready to be carried away with us in a cloth bag when we left.
The views of the table from afar, covered over with burlap sunshade, gave auspicious protection from the would-be dazzling Sicilian sun. Instead it gave us a sense of comfort but little permeable protection from ominous looking clouds. It also gave context to the long beautifully out of place table in the vineyard and looked more like a Cristo art installation than a picnic.
I was anxious to meet Mary Taylor Simeti, who wrote "On Persephone's Island". It was her description of rural Sicily that hooked me first. And there she was, the next seat available at the table. She was the one person I didn't want to miss meeting. I couldn't believe my luck even though I hesitated for a few minutes, thinking it was too good to be true and perhaps I should leave it for someone else. Then I just eased into my chair and we eased into conversation. She was warm and extremely down to earth. We often puff people up unnecessarily. I kept my seat.
It was somewhat "emozionante" to see Fabrizia standing on a chair in her sea foam green tunic commanding the long table in each direction like Fabrizia the Great and Generous. She welcomed her guests with her voice only. The only part I heard was that "her mother would have been so proud". I thought of Anna tenderly in that moment and tried to feel into her pride. She could never have imagined a fete of this sort on her behalf, hosted by her once reluctant, rebellious daughter. Indeed, Fabrizia was beaming, no doubt proud as well to carry her mother's foundation forward,  in her own, creative, sustainable way.  Lineage matters, no matter what we have been given, especially if it's something of value and inspiration.
Visiting Case Vecchie for the first time in 1998 was like coming home. The approach through the green rolling countryside left a deep impression, as some places in the world will do. Rural beauty softens the heart. There was a noticeable feeling of falling into a familiar place, yet knowingly seeing it for the first time.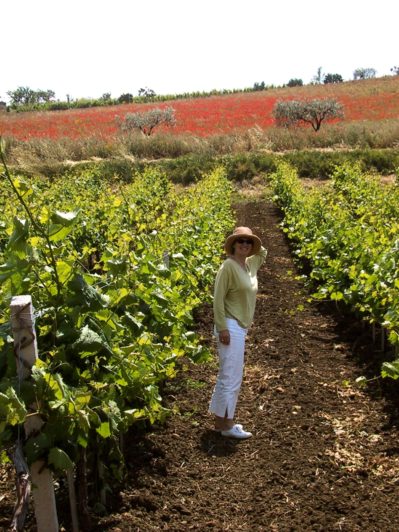 After passing miles of wheat fields, we crested the hill of Vallelunga and our eyes fell on a thousand acres of well-combed grapevines crisscrossing the dark earth of Tenuta Regaleali; a Sicilian Shangri-La. It was springtime and the poppies dotted the land like a Cezanne painting in grasses knee high under the olives trees. Driving up to 18th century Case Vecchie (the old houses) was nothing less than "regal".
I met Anna Tasca Lanza in San Francisco for the first time in 1996. I was there for an Italian Gastronomy Conference put on by the International Olive Council. There were 30 Italian wine producers, restaurateurs and authors visiting and speaking. Anna was one of them. As she read from the introduction of her book, "The Heart Of Sicily", my ears perked up and I was taken not only by her voice, but by her mannerism. After all, she was a Marchesa. A Marchesa who spoke fondly and affectionately about her native Sicily, its bounty, the dazzling heat and the simple people and ingredients that made it so bold. She painted a picture of Sicily that I will never forget. It was so enticing, that I longed to go. I had started my own cooking program in Tuscany in 1992 called "La Cucina al Focolare" (Cooking By The Fireside). How and why is a long story. I spoke fluent Italian, therefore I was scooped up by all of the visiting Italians. They were my idols, all of them and I couldn't believe my good fortune. One day we boarded a bus to Davis University and there was Anna in the first row, knitting. I asked if I could sit next to her. As she knitted, she elaborated on the stories she had mentioned during the panel discussion. She invited me to come and not only visit Regaleali, but encouraged me to bring a group. She didn't have to twist my arm. I brought my first group to her cooking school in 1998.
Journal Entry April 1998:
Case Vecchie welcomed us with a bit of understated bravado. A tall marine pine stands guard at the entrance between the gate and the garden. The pergola is lined with aromatic pink roses, and Anna herself came out to greet us in her plaid pants and brown wool sweater. She has a soft, noble greeting with a smile. Obvious content is noticeable, but barely. Her husband Vinceslao, is there as well, ever the gentleman dressed impeccably in a suit and tie. He has to be the most handsome, regal man in the land. The courtyard teems with flowers and white linens blow in the windon the clothesline. A tall palm shades an inviting place to sit. A feeling of content has flooded over me.
Sicily and Tenuta Regaleali got under my skin. I continued to come ever year, sometimes twice, spring and fall.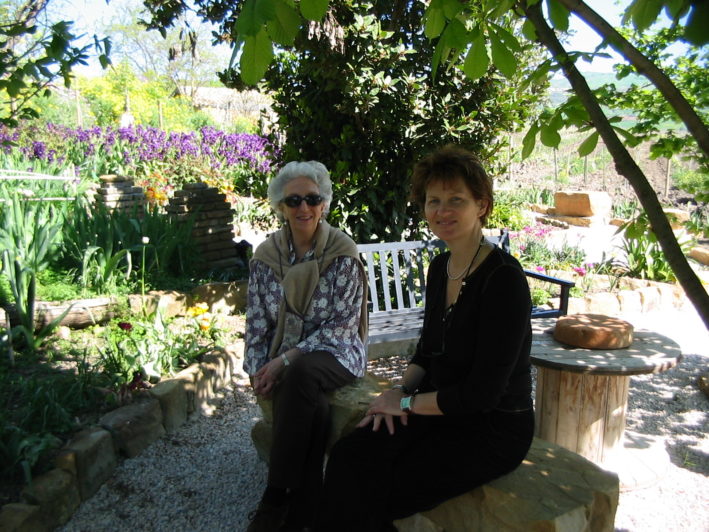 Journal Entry 2002:
Time slows down at Case Vecchie. The rest of the world falls away. The only thing to focus on is what's going on in the garden and the kitchen. Anna stands at the doorway with three deep yellow quinces that she has just picked from her orchard garden of forgotten fruits. She will make a sliceable fruit condiment called "cotognata". It will take time. It cooks for a while then has to set. In the fall, there is always a trolley of interesting shaped trays she uses for molds, drying in the sun. It's good with cold meats and strong, aged cheeses, exactly like the Spanish membrillo.
The fruits from her orchard- pomegranate, fig, sorb apple, and the quince, hang like juicy jewels from the trees, a tribute to the botanical richness of the past.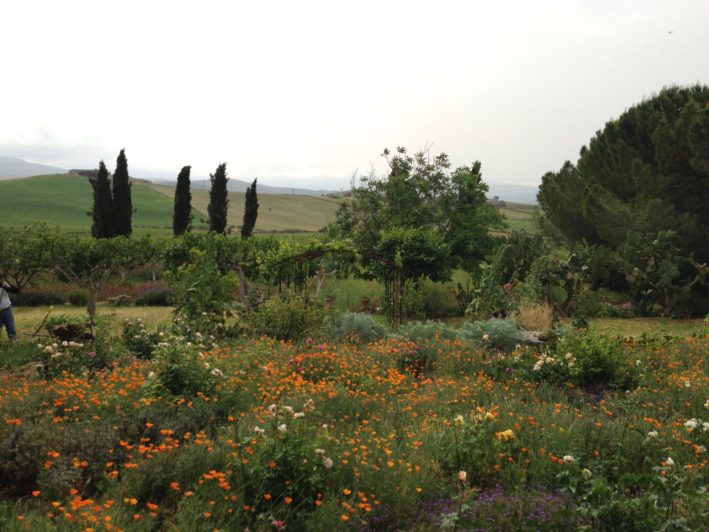 In springtime, there are green pistachios with edible buds. There are roses, delphiniums, yellow poppy, and the wild red native, sula. The indigenous artichoke grows 8 feet tall stretching to the sky with spiky flower heads that haven't been picked, that release their seeds to fly in the wind like tiny paratroopers.
The other great friend of Sicily is the"ficodindia" prickly pear, growing equally as high, thick and ominous enough to create a protective wall, with fruits the color of saffron and fuscia.
 ……………………
As I read through my journals, I savored the quiet moments that I had in the garden with Anna. She was reserved, but forthcoming- on her terms. As I read further, I could feel how the needle had been threaded from the past into the present and felt quite happy that I have witnessed both.
……….
We found Anna back in the kitchen with Giovanna and Enza, busily setting the imperial table for lunch. Una tavola Imperiale, is a big square made of two or three long narrow tables put together side by side. Tableclothes have to be made sometimes out of sheets sewn together. The plates have insignias of the Tasca crest and glasses galore are set for their prestigious Tasca d'Almerita Regaleali wines.
The table is lively all through the day starting with breakfast with an array of homemade jams, homemade cakes and breads, fruits and flowers, all from the garden. Honey might be scooped from it's comb. Like children, she spoils us with fresh, warm "pan di Spagna" with a dollop of orange marmalade on top.
 ……..
Before the first cooking lesson, we would always take a walk in the garden. It was what she was most proud of, perhaps more than the school. It was a dream of hers to bring back the forgotten fruits. One day, there was a box of tiny apples in the kitchen with their leaves still attached. Anna saw me looking at them and she said, "Do you know what they are?" I couldn't guess. "Sorbs", she said. Right then and there I fell for Anna, a woman after my own heart. Not only could she write about what was important, she could manifest her dreams. With the hands of her gardeners and Pompeo, the farm manager, she was deprived of nothing to make her happy if it could be planted. After all, just about anything would grow in the rich sun-drenched Sicilian soil.
The first lesson was always focaccia. Even though the class was a full menu of what was to follow for lunch, her favorite thing was to get her hands in the dough, straightaway.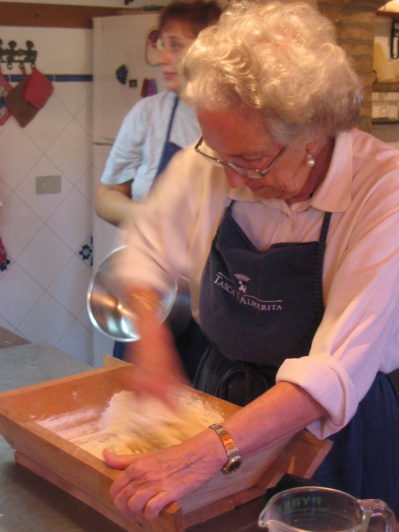 Journal entry April 2003:
Anna is making "sfincione" this morning in the "maddia"; a wooden box with sloped sides that hold the ingredients well and keeps the flour from blowing all over the place. Anna uses wonderful expressions to explain how to work the dough. "You mustn't be afraid of dough- good grief! There are so many things to be afraid of, but not dough!" 
She's wearing rubber gloves that squeak as she kneads. "Oh! I must have a little bird in here! I use them because the dough destroys my nails and then when I need to be a Marchesa, I'm afraid they will never return." As Anna cracked the eggs, she turns to me and whispers, "my egg had hay on it this morning. I love that! Freshly boiled eggs in an egg cup for breakfast. Ah!"- A candid, if not unlikely statement from her.
We continued on with the help of Giovanna, her right arm, to make lamb with aromatic salt. Lambs that eat local grasses and scrub have the same taste of terroir as the wines. We made "cuddereddi", the Sicilian doughnuts, panelle, always panelle, those irresistible chick pea fritters. We made pasta with a fava puree (full of wild fennel fronds) as a sauce.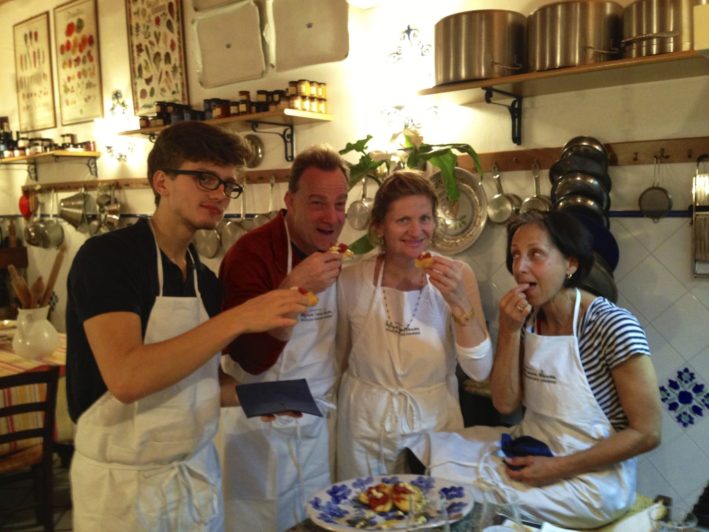 Journal entry April 2005:
Anna started to cook when she got married to Vinces. He was particular and wanted things a certain way and was spoiled from his upbringing. Anna taught herself from her "feeling" of what needed to be done. She doesn't cook at home in Palermo, but only here in Regaleali.
After the cooking class, lunch will commence of the pasta we've just made with a seasonal sauce, inevitably containing fresh ricotta or tomato. Fried anchovies, panelle-chick pea flour fritters (again!) with local and sharp pecorino will be served for aperitivo out under the palm with a fruity Regaleali Bianco. When possible, Anna would prepare a gorgeous green salad with fresh fennel and cedro- the winter lemon. She knew it was my favorite. There was affection in that salad and between Anna and me.
Sitting in the garden after lunch with the wisteria hanging over my head, I felt drunk. Not only from drinking wine in the middle of the day, but from the magnificence in front of me. I looked closely at an apple blossom. The leaves were velvety and the blossoms like a blush on a maiden's face, in various shades of rose and cream. I thought to myself, why have I never noticed this before? The absolute perfection of a simple apple blossom, clustered together with branches that form an entire tree? The apple tree lives in a garden, bordered by wild fennel, wild artichokes, bietola, and fava. Figs, pomegranate, bursting irises, and fico d'india are close by. One need not mention the word paradise or love, but it has risen from the depths of the earth with a force unimaginable and incomprehensible to our limited perceptions, but present with all the splendor and perfume of delicate nothingness.
The garden of forgotten fruits have made themselves known again.
 A smart and talented woman, Anna remained creative and sharp up to her last year. She taught me how to be courageous with what bag of tricks one has. She had softened. Her sense of humor had extended to me genuinely.
"It's easy of course if you know how to do it", says Anna about her beautifully crocheted placemats that look like they have come from a trunk full of antique linens.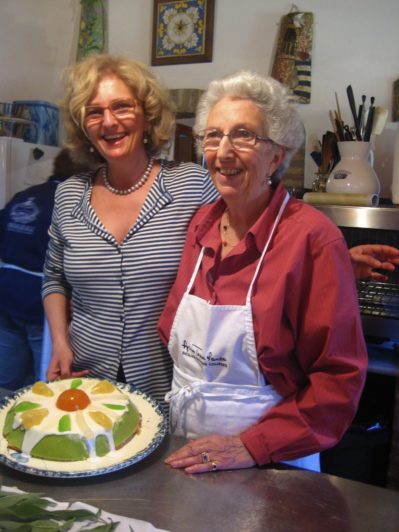 ……
We lost Anna before her time in 2010, to an aggressive brain tumor. It was a time of transition for me from my long relationship with Case Vecchie and the time that Fabrizia came on the scene. It was clear that there would be changes. Fabrizia would be doing things her way, much to the chagrin of the permanently rooted staff. It took me a while to decide how or if I would continue. The economy was bad and Sicily had always been a tough customer. Now how would it go with Fabrizia? We didn't really know each other. Would Sicily be lost to me?
Tall, regal, and brilliant, Fabrizia Lanza is a force. An art historian, rather than a cook at the time, she took the cooking school by the horns and made a solid commitment to take her legacy forward. It would have been a shame to let the foundation turn to ruins like the temples of old Magna Grecia.
She quickly mastered the dishes of the estate that she knew so well and put her intelligent passion into the garden, picking up where Anna left off. She dove into the ritual of baking bread, pickling, making the notable tomato sauce and paste and taking the homemade marmalade to the next step~ selling them. She wrote two books in short order, one on the humble "Olive" and her colorful memoir and cookbook, "Coming Home To Sicily". She started traveling all over the United States, just like her mother before her, as well as to other countries promoting Anna Tasca Lanza's Cooking School and the wines of Regaleali. Our friendship warmed slowly and solidified when she came to Colorado last year for a few weeks. We got to know each other and with my long history as someone who knew her mother for many years, we have become like sisters. Extremely gifted and smartissima~ I must say Fabrizia inspires me to no end. She also has two documentaries under her belt. Amuri: The Sacred Flavors of Sicily and Amaro: The Bitter Taste in Sicilian Food Culture.
My favorite line of Anna's when she wanted to be the first one to leave the table, and she always was, "I don't know what you are going to do, but I know what I am going to do"~ and she would make a graceful exit. She left the table, she left this world, and she left me with a huge affection for Fabrizia, Regaleali and Sicily with its wild heart and the way the fruit hangs on the trees, the way the wheat blows in the fields, and how the wine tastes in the glass.
That conversation on the bus led to 16 years of visits to Regaleali and the kitchen of Case Vecchie. I would like to think that the stories she told me were woven into the sweater she was knitting. Certainly, they were woven into my heart and I have my own stories to tell her granddaughter and mine.
…………………………………………………………………………………………………………………………………………………………
It's May 2020 and Covid-19 has kept me from spending time in Sicily during springtime. We have postponed until September. Sicily is calling and I'm ready to go. Who will go with me? It's bound to be restorative.