Slipping into Morocco from India, I wondered how I would feel. Would it still hold the same fascination for me? After all, India has her charms, and they are similar in exotica.
Upon arriving in Marrakech, my heart did that dropping down into deep feeling smiling thing, like when you see a long lost loved one. I love Morocco. It has its own uniqueness that is like no other place I have ever been. The pink adobe walls graced with roses and orange trees are a welcome sight to any traveler. The ancient medina mixed with bo chic style and genuine hospitality and warmth, relaxes you instantly. The call to prayer five times a day brings attention to an otherworldliness that infuses the air along with the scent of jasmine and orange blossoms in the springtime.
Our journey begins at Jnane Tamsna, one of the most beautiful private guest houses in the Palmeraie of Marrakech. Settling in takes no time as the place is not only easy on the eyes, but on the spirit. Meryanne Loum Martin's personal style creates a pleasing atmosphere that soothes the aesthetic soul. A walk out into ethnobotonist Gary Martin's landscaped gardens full of olive trees, orange and lemon trees, succulents, herbs, vegetables, roots, asparagus, artichoke, lemongrass, and forgotten fruits of yore. Sitting down for lunch in the midst of this paradise, we are served aromatic dishes that further play on our senses. The sun is warm and a glass of wine in hand puts where you have come from far away. You are far away and that's the point. To discover a new land. One that not only offers exquisite tastes in every way, but a culture that has its root at the heart of the indigenous Berber. 
We not only bring these exquisite traditional dishes like lamb and fig tagine, seven vegetable barley couscous, pastilla, kefta and ras al hanout pears to the table — we get our hands in the making of them. Something to take back home.
After exploring the complex layers of the medina and souks, the spice shops and craft alleys, and city life in Marrakech, we head east to the Atlas mountains to sit at the feet of the highest peak of Mt. Toubkal that looms over us at 13,667 ft. The Kasbah du Toubkal, our mountain retreat at 6, 000 ft, gives us a comfortable view and an experience of mountain culture par excellence. We mingle with mystery and rarified air. We have conversations with the Berbers that operate our retreat, and take time to visit the nearby villages, and have tea and break bread. There is music and celebration, a sense of humor and an innocence that has infused the white valley of Imlil for centuries. People are living quite like they have always lived, in simple mud structures with their animals nearby, eating off the cultivated terraced land, using herbs, grains, beans and fruits for their health and medicine. The children have bright eyes and rosy cheeks and take this resilience into their daily lives playing, tending, taking care of younger ones and exhibiting independence and capabilities way beyond their years.
Falling from the mountains like water, we make our way down to the ocean. Within just a few hours, traveling over the verdant Haouz plain, we hit the main artery from Marrakech to Essaouira, the jewel of the west coast of Morocco. After passing the Argan forest often finding goats grazing on the trees, we crest the hill and the Atlantic spreads before us, just like it did for the caravansarei coming across the Sahara a thousand years ago. The ocean breeze meets us with that unmistakable west coast beat of drum and banjo, that serenades us while we eat our choice of grilled fish at the port. The smell of fresh baby squid on the fire, along with shiny sardines and flat white dorad, makes for a nice picnic after a long car ride.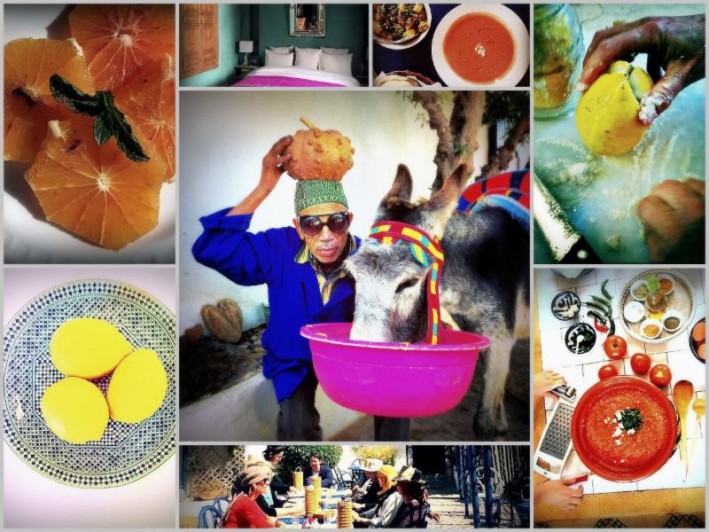 Essaouira is open and making ones' way alone is not an issue. There are plenty of shops to explore and tribal rugs to learn about and swoon. Essaouira has a laid back vibe similar to our own west coast that brings out color and smiles. Seagulls are a common site against the old city of Mogador, a trading post for the Portuguese, whose port still exist with a thriving fish market. Blue fishing boats crowd the small port and fish of all sorts, including elaborate eels and margarita crabs, sit along an array of local fish that we don't have names for.
Just down the long cinnamon colored coast, we come to the small village of Sidi Kaouki. This is a favorite spot of mine for "getting away from it all". The opportunity to experience this much space to breath and feel free is rare. Our small white washed hotel "pensione" offers simple accomodations with no electricity in the rooms or general sitting areas, offering a candlelight ambiance that softens the soul. The food is native to the coast, and particular to the place. The ladies of the kitchen have the touch and we are well fed. We also see if first hand, so that we can repeat the delectable shakshuka, also known as a Berber omelette, at home during the peak of tomato season.
Maybe we walk the long deserted beach alone, but we ride camels all together in a slow saunter with our turbans tight and our cares blowing away in the wind. Our chameliers (camel drivers) are local boys from the village who join us for a bit of this unusual syncopated rhythm of drum and banjo and singing the typical songs of Agadir coastal music. We want to take them home.
Driving back to Marrakech is easy and quick and returning back to a familiar place is comforting. We walk the medina like we own it. We are practiced bargainers. We load up on all the things we have come to treasure, like teapots, hand-painted glasses and lemon wood spoons.The night sky is potent with stars and the palm trees reach gleefully up like whirling dervishes ready to twirl. There is a peace and a calm and yet an aliveness that naturally pulses and moves not only the donkeys in the streets, the fezed Moroccan to pour his tea, the camels to lope, the fingers to strum and the call to prayer to praise the mystery that inspires it all. It moves especially those of us who have been brave enough to come and sit and listen to the Berber's tale.
Bring an open heart and adventurous spirit and join us for a Feast for the Senses.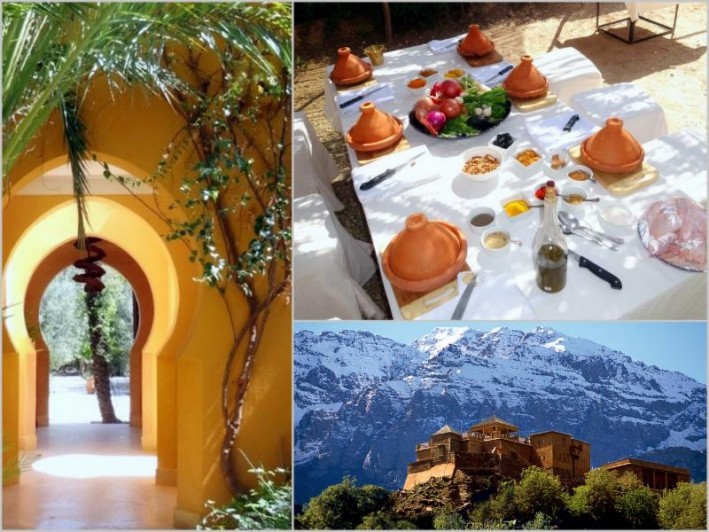 Learn more about Peggy Markel's Culinary Adventures and Slow Food Tours. Click here.