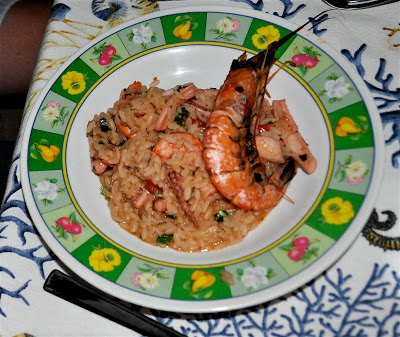 Zuppa di Pesce? si..but also Risotto Pescatore
Ingredients:

1 kilo of fresh prawns
3 fresh squid
1/2 kilo of vongole verace (clams)
2 red mullet
a few cherry tomatoes
1 can of cherry tomatoes, peeled
olive oil
4 cloves of garlic, chopped
white wine
a bunch of parsley, chopped
fine salt to taste
pepperoncino (cayenne) a dash to taste
Preparation:
1. Peel the prawns, separating prawn from shell. Set the prawns aside. Bring a pot of water to a simmer and drop in prawn shells.
2. Clean and cut the heads off the mullet. Fillet the fish, cut into 2 to 3 pieces and set aside. Add heads and bones to the broth.
3. Rinse and tap the clams (looking for a "flat" sound that may indicate a shell without a clam but full of sand). Set aside.
4. Clean the squid by taking out what's inside the tube. Peel off the thin outer layer. Slice into rings. Set aside. 5. Peel and flatten garlic. Rinse and dry. Chop parsley fine. Set aside. Quarter the cherry tomatoes and set aside.
Now you have your mise en place.
1. Put a generous drizzle of olive oil in the bottom of a large sauté pan. Add chopped garlic and simmer until barely golden. Add pepperoncino, half the parsley and the tomatoes. Stir until saucy. Salt and pepper. Strain and add the broth.
2. Heat a separate pot. Add some olive oil and a little garlic. Add the clams. Toss them in the hot pan, splash them with white wine and cover the pot with a lid. Steam for 3 minutes, or until the clams open and give up their liquid. Add to the pot. (Be careful not to let any possible residual sand from the pot liquor to slide in.)
3. Season prawns (or shrimp) and squid with a quick toss in a frying pan, with olive oil, parsley and salt. Set aside. Add to the pot. I like to season things separately before adding the pot, it deepens the flavor. Otherwise, you could just skip this.
4. Correct salt and pepper . Add the rest of the fish and fish broth if you have some leftover. Let it simmer to marry, but not so long to overcook the seafood.
5. Garnish with parsley. Serve with garlic toasts. Should be flavorful and spicy.
P.S. Broth can be used for making Risotto, shrimp and squid can be cooked right into the rice. Scampi in the shell, clams, etc. can be added on top of the risotto before serving.
Learn more about our week-long culinary sailing program along Italy's Amalfi coast.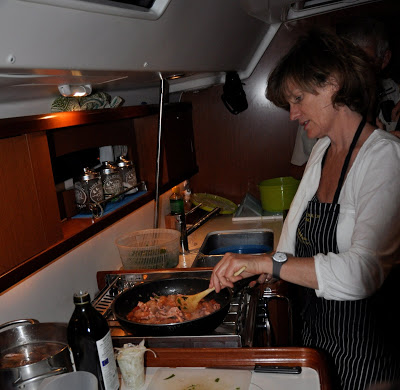 Inside our sailboat the 'Swamy', cooking on a gimbled stove.
photos by: Hank Strauss