Thailand is the land of 'nice'. The people are, generally speaking, gentle, hard-working and hospitable, with hands folded in the traditional greeting, "sawadee ka"…hello, welcome and goodbye.
I have been to Thailand three times in my life. Once with my family when the children were little in 1988, and two other times, in 2001 and 2005. Lao was added to the latter trips. A new frontier, and a step back into tradition from Thailand's newfound hustle and bustle.
This is a travel log revisited for my friends at intothesoup.com for their upcoming radio show in which yours truly will be interviewed about my experiences there. Sawadee…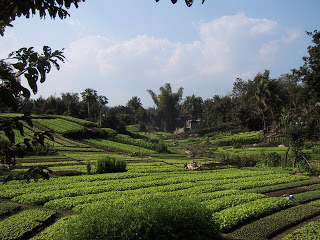 Village gardens in Luang Probang, Laos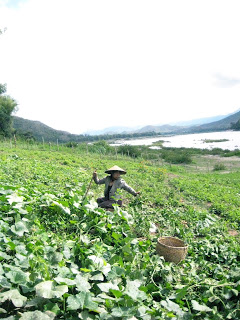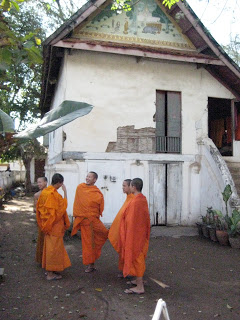 Along the Mekong + Monks at one of over 70 Buddhist Temples in Loang Probang.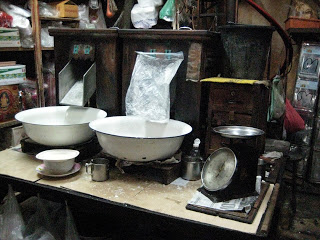 Coconut shredder~Chang Mai, Thailand
A woman soaks shark fins to place between bamboo mats. She can sell them to restaurants at $25 a pop. She wouldn't if she knew better. A coconut shredder shreds coconuts continuously. The first press offers cream, the second press, milk. No green curry worth it's 'milk' would be made with anything other than fresh. The next stand is heaped with unidentifiable greens. Many are from the basil family- Holy and Hairy. They are bunched up near their root companions, ginger, galangal, lemongrass and shallot. Flat baskets of chilis add spice to the view, kafir limes and leaves give you a clue. Where am I? An outdoor market in Thailand. With tasty ingredients like these, I can see why they call it the 'land of smiles.'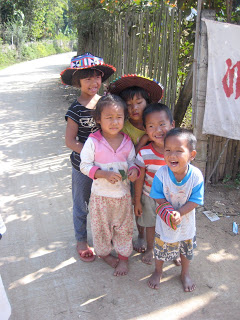 Village children, Laos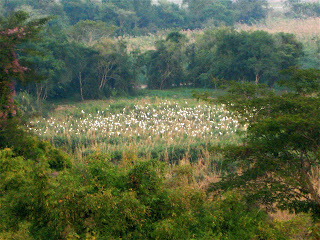 Open field of white birds, Chaing Rai, Thailand
There are 5 components to a dish. Sweet, sour, salty, pungent (spicy), and bitter. They say if you eat all 5, your organs will be balanced and your senses too. Asian flavors zing and play merrily on the palate. They compliment each other well. What grows together, goes together, and the list is long. Flavors seemingly complex come from very few ingredients. It's quick and dirty- or rather clean-most dishes come together in a matter of minutes. Chopping and pounding are the time factors here.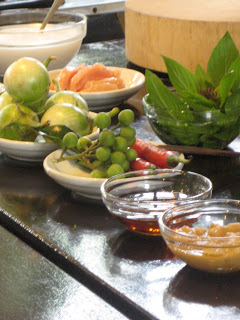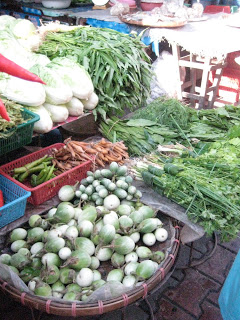 Into sudden summer, the cooler season was lost somewhere over the International dateline. I found it straightaway in Bangkok, in a refreshing spicy soup; Tom Yam Goong, with shrimp, lemongrass, ginger and kafir lime. Sour is the taste of Spring in Thailand and deliciously medicinal. I loved exploring the cuisine from the base of fresh ingredients first, not from the familiar dishes themselves. The key players quickly made themselves known. Numero uno: Lemongrass: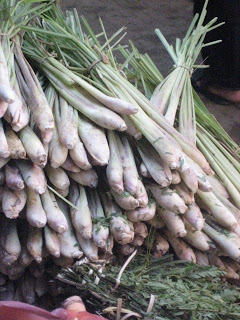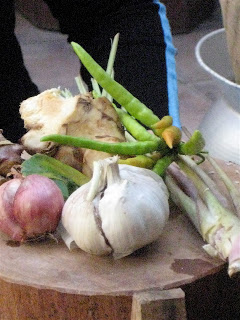 lemongrass + Thai 'mirepoix'
Whether finely chopped or left in pieces, lemongrass is king. It marinates fish, flavors broths, and it's the backbone of green curry. The long grassy leaves are a stomach tonic and can make a pleasurable tea, cold or hot. Dress it up with honey or a little sugar syrup and it becomes a sophisticated beverage to sip in the day. Add vodka and lime juice and call it 'Thai Noon'at night. A thick layered stalk, lemongrass grows long and tall. Just the word conjures up a soft breeze from the Orient. (Even in your home garden. I've heard you can just stick it in the ground and it grows. At least in Marrakech.)
I found the mixture of lemongrass, ginger or galangal, shallot and chili to be the ''mirepoix" of Thai cuisine. These base notes form the body of a dish, just like the holy trinity of carrot, onion and celery.
Fish sauce ( a slow sun-baked elixer that drips from dried anchovies) is used for salt (make sure it's at least 60%), and balances lime juice and stock (chicken or fish) gives it all a home. A touch of palm sugar balances certain dishes with a deep note that doesn't say 'sweet'. It says 'peace'~ lets get together and create harmony. It can also mellow an over-the-top spiciness, so that chili doesn't dominate, but delights. Coriander root, seeds, and leaves, scallions, garlic, mint and tamarind take the dishes in various directions depending on where they are going. It' all makes sense once you start cooking. Kind of like life.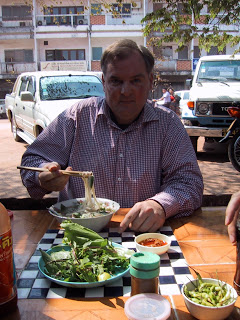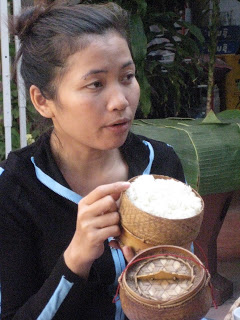 Robert Graham eating noodles + Lao woman showing us 'sticky rice'
Noodle pots are common on the street. It is often the cheapest and healthiest way to eat. Thai people will use chopsticks with noodles, but prefer the fork and spoon for rice and accompanying dishes. Rice is a long discourse. But on the short, they eat more glutinous 'sticky' rice in the north, black, red, white, and mostly steamed white in the south. Older rice is preferable over new, as they feel it has more flavor and depth.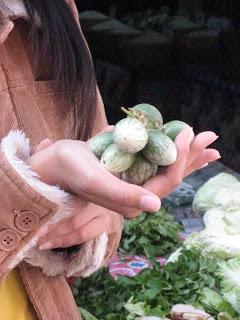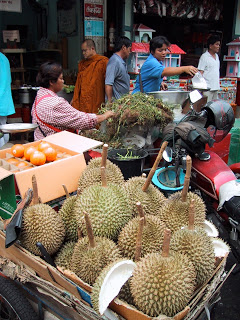 ping pong eggplant + durian fruit
Various forms of eggplant play an important role. The tiny pea eggplant, cute, crunchy and bitter, are used most often in a green curry with chicken. Ping pong eggplant, quick to cook, is sliced and added to various dishes and soups.
Thai basil, hot basil, and sweet basil are hardly anything like we know basil to be, but nevertheless a superhero. Pea vines and morning glory vines are actually a delicacy, sautéed with garlic and oyster sauce. Look for them at your local farmer's market. Most likely you will find a Hmong woman who has them along with her homemade chili paste, zucchini flowers and other exotic greens, such as amaranth.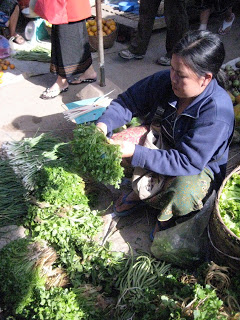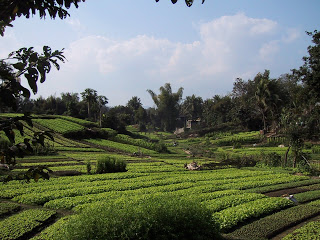 Greens, greens, and more greens..Luang Probang, Laos
These rather exotic flavors reflect an exotic land. Thailand was never colonized and has the longest ruling Monarch. King King Bhumibol Adulyadej (Rama IX) has ruled Thailand in a democracy since 1946. He is now 83 years old. The Royal family is well loved and highly respected. Worries abound that his passing could be the death of democracy in Thailand.
The elephant is the symbol of Thailand and a sign of strength and good luck (when the trunk is turned up). Elephant symbols are everywhere, which didn't surprise me, but when I sat down for a 3 dollar foot massage one evening on the streets of Chang Mai, I didn't expect to see one's snout sniffing around me catching me unawares. A 'mahout' (elephant trainer) who had been quietly walking behind me (is there an elephant in the room?) shoved sugar cane into my hand. 'Feed my elephant, feed my elephant, she's hungry! ' One by one I fed a very agile and nibbly snout a midnight snack, to which she promptly pooed and peed large amounts right in front of the 'Heaven Hut'. 50 cents went his way and I had a special moment right there, eye to eye with the elephant on the street and so did she. I considered it a good omen.
A longboat trip up the Mekong the next day took us to Chang Rai to a jungle retreat, complete with an elephant camp. We were able to spend more time with elephants and their babies, feeding the mothers green bananas. I learned that the previous evening's entertainment was actually a common problem. Now that the logging industry using elephants has been banned, Mahouts are desperate to keep their elephants fed and working, so they hit the streets. At the Elephant Camp, they are developing a program where Mahouts can actually come and be with their elephants instead of selling them to invest in more— keeping mahouts and elephants off the street. I had no idea I was supporting abuse, as to find an elephant on the street was no more surprising than anything else I had encountered. I was appreciative of the lesson and now plan to donate in honor of their well-being.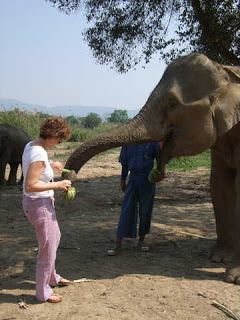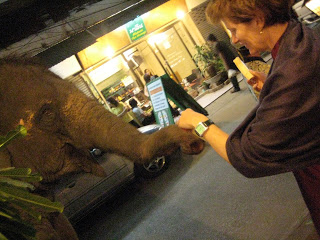 Elephant feeding..legal and illegally on the street (caught unawares!)
There is radical change from my first visit 20 years ago when my own children were 4 and 8. Old Bangkok is hidden in amongst the lower level high rises and the night bazaars are full of cheap nothings. I no longer saw street carts of deep fried beetles and tarantula. A tuk tuk, (three wheeled motorcyle taxi) is more expensive than a taxi and a nights stay in a good hotel could dip seriously into a college fund. The floating market, one of Bangkok's best, is more like a floating 7-11. People in the outlying areas seem to be more interested in goods, rather than fresh food. I made an assumption that this had to do with the addition of unsightly satellite dishes.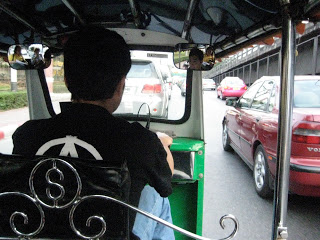 Tuk Tuk-ing around Bangkok
One tradition remains firm and that is giving alms. Up at dawn one morning in Luang Probang, in the neighboring country of Laos, a group of us gathered our sticky rice baskets and waited for the monks to proceed. The longest practicing monk is first in his monastery, not the oldest, and it follows down to the youngest novice. Silently they approach in single file, their alms buckets slung across their shoulders. There are no words, only the sound of the lid at it slides off the bucket, as they go one by one, making room for a pinch of rice. The long road lined with devoted alms givers, fills their buckets full. They do not grasp, they do not beg. The act of kindness and the opportunity to offer a gesture of generosity fills our own soul bowl as the saffron procession fades into the distance.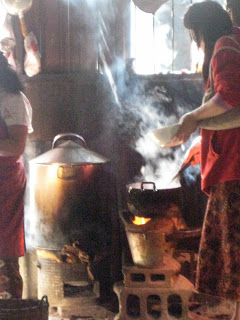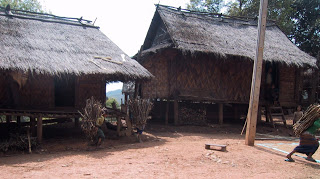 Cooking over fire with sticks gathered by these 'stick children'. Hmong village.
In an ever-changing world, finding what still remains to be true is getting harder to locate. Going straight to the market is the best place to start. No where is a country's identity stronger than what they choose to eat. They choose what grows around them and what grows depends on their climate and location. How this diversity came about is nothing short of astonishing.
Protecting a culture from losing it's traditions is the very solution to a sustainable future. For them and for us. Sticking with our true nature; one of kindness and generosity, and living with what comes natural, will keep us in the flow of nature. Respecting simple ways and values will give us sane tools for living in a modern world and strength to face the changes.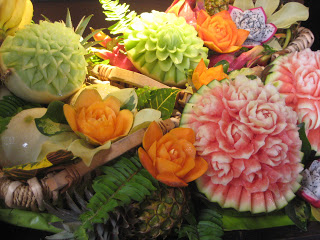 The art of food garnishing. Bangkok.