Thailand is the land of 'nice'. The people are, generally speaking, gentle, hard-working and hospitable, with hands folded in the traditional greeting, "sawadee ka"…hello, welcome and goodbye.
I have been to Thailand three times in my life. Once with my family when the children were little in 1988, and two other times, in 2001 and 2005. Lao was added to the latter trips. A new frontier, and a step back into tradition from Thailand's newfound hustle and bustle.
This is a travel log revisited for my friends at intothesoup.com for their upcoming radio show in which yours truly will be interviewed about my experiences there. Sawadee…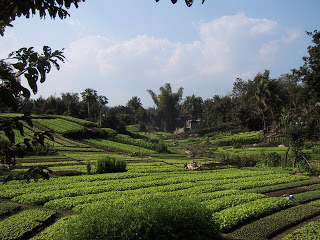 Village gardens in Luang Probang, Laos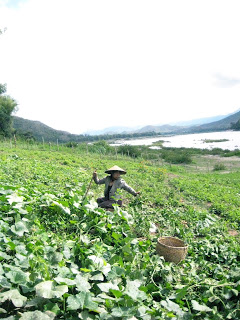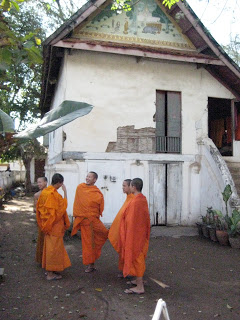 Along the Mekong + Monks at one of over 70 Buddhist Temples in Loang Probang.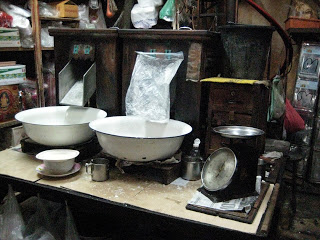 Coconut shredder~Chang Mai, Thailand
A woman soaks shark fins to place between bamboo mats. She can sell them to restaurants at $25 a pop. She wouldn't if she knew better. A coconut shredder shreds coconuts continuously. The first press offers cream, the second press, milk. No green curry worth it's 'milk' would be made with anything other than
fresh.
The next stand is heaped with unidentifiable greens. Many are from the basil family- Holy and Hairy. They are bunched up near their root companions, ginger, galangal, lemongrass and shallot. Flat baskets of chilis add spice to the view, kafir limes and leaves give you a clue. Where am I? An outdoor market in Thailand. With tasty ingredients like these, I can see why they call it the 'land of smiles.'
Continue reading…