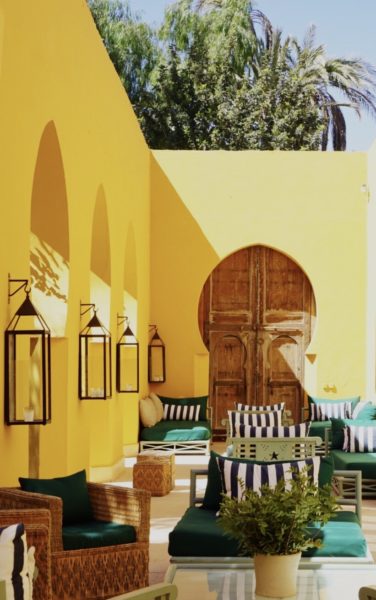 My group arrived in Marrakech March 9th 2020, set to have a "Feast For The Senses". No one had cancelled thankfully, even though there were hints of an epidemic. It was a delight to take on this very courageous group of people. They stood to lose a lot of money if they didn't come, not to mention an experience of which they had looked forward to for a year. The gardens of Jnane Tamsna were spectacular. Bougainvillea cascaded from the walls in pink and white. Olive trees abundant with fruit about to naturally select. Birds were singing, the sky was Majorelle blue and everyone was in a swoon as we sat in the warm sun with a deep sigh, like when you finally reached your vacation destination. After a good night's sleep and a breakfast of Moroccan pancakes, yogurt and fruit, we took a walk through the infamous gardens of Jnane with Gary, co-owner and ethnobotanist, took us for an informative walk in the garden, naming the trees and plants in Latin to familiarize people with the land. We got a sense of the intention with which Jnane Tamsna was designed and initiated. We had cooking classes outside in the garden so we could fire up the charcoal in the terra-cotta mejmars, ready for us to put our chicken tagine to cook on top. We made ourselves delightfully at home.
Haj Hafid, our local guide took us through the medina where we saw most all of the artisans producing their wares; slippers, leather bags, iron workers, basket weavers, carpet sellers, snake tamers and fortune tellers. We learned about the community in the various quartiere, the hammam, the mosque, the community baker, the fountain. Back at Tamsna we ate by candlelight and relaxed. By day we ate couscous in the garden that we had prepared, and by evening we had aperitifs in the warm evening on the veranda and dined elegantly every night at our long table in the dining room under overhanging olive branches. We left for the mountains the next day, somewhat reluctantly. Until we realized that we felt somewhat reluctant to leave wherever we went in the days to come. Our first stop? The aromatherapy gardens of Jalil Belkamel in the lush Ourika Valley.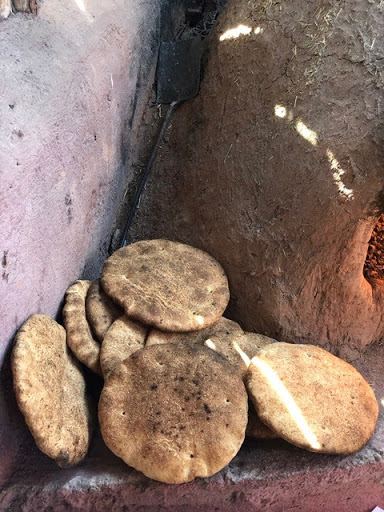 We made khobz, barley and semolina breads in the traditional Tachelheit clay ovens. We sniffed healing essential oils from distilled plants, had a foot bath with herbed salts and ate kofta and vegetable tagine for lunch on a long table amongst the herb gardens and rose hedges. As the afternoon got dreamier, we had to tear ourselves away to drive over the Haouz plains up to the Imlil Valley to reach the Kasbah du Toubkal at 6000 ft. It rests at the foot of Mt. Toubkal, the Atlas Mountains tallest at 13,670 ft. Here, we could rest for a few days in a Berber lodge with the splendor of the rushing water snaking through the valley from the mountains, breathe fresh air and bask in the hospitality of Berber culture. We took a walk to the last village before a long, high trek, called Aremd. The highest trek we took was up large stone steps to have tea near the top of the village in the house of Aisha and Hussein.
The epidemic was now close to a pandemic. It had spread worldwide. Europe was now off limits to travelers. After only two handshakes with the mule-drivers, I put my hand over my heart and greeted them genuinely. That very day, I stopped touching people. The news was growing and spreading even up to the mountains. No gatherings. No hammams. No music party. No picnic. The news had hit and if the king said keep your distance, the Moroccan people heeded immediately. Even remote as we were, we were careful. Aisha stayed away and kept her granddaughters on the second floor. We acknowledged our love for one another in a few photos with our pointer fingers together, to signify united hearts. I felt pangs of sadness, but knew they would be fine where they live, unless a carrier goes there undetected.
We took the donkeys down the mountain, repacked our bags in the bus and headed to the ocean. 5 hours of travel through the countryside with a well deserved stop for nous nous~ half coffee, half milk at the Atlas cafe. We knew an hour later we would enter the biosphere of the Argan trees and, yes, goat that like to eat the nuts would be either nibbling from below or placed by heartless profiteers in the trees on platforms looking rather Dr. Suess. Otherwise, this micro-climate is unique in the world. The Argan oil, a most precious cosmetic ingredient is produced only here. We don't stop to look at the poor goats. I think it's cruel. Anyway, the port of Essaouira was waiting for us with freshly grilled fish and tomato onion salad. Open air dining with crashing waves beyond the wall 50 feet away, as well as the old Portuguese boats, seagulls and old men hooking sardines for bait. Sad to think they will be closed now for a while. After lunch, we walked to my friend Mustapha's antique gallery of tribal carpets where dates graced the table and tea was served. One by one, he identified the designs and qualities as being from one part of the High, middle or lower Atlas mountains. Several carpets were shipped home. Trading can actually be pleasant.
Our home for the evening, Le Kaouki Inn on the deserted beaches of Sidi Kaouki were windy but clear. Walking those beaches is like medicine. The wind blows your troubles away. Whether walking or up on the back of a high camel, the view is spectacular and the mindset free. If only it would blow the virus away. But that's just it. If it did, it would blow it on another part of the planet and we don't want that. What we want to do, is starve the virus. We all start washing our hands like raccoons.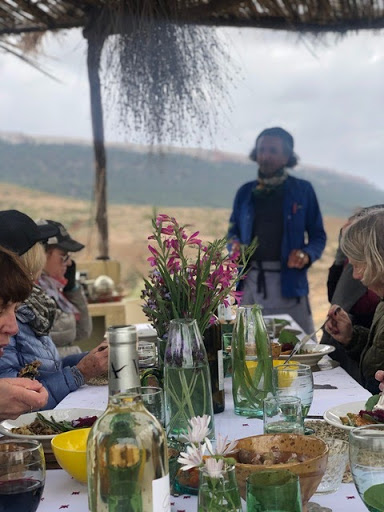 Back in Marrakech the next day, we settled back into Jnane Tamsna. It becomes clear that certain rules have been put in order by the government overnight. We are no longer allowed to gather in the salon or the dining room. We must eat in our rooms. Here we have been traveling together for a week, more like family at this point. We have shared food and tables and sat close to each other in vans. And now to eat in isolation? We found a back veranda that was connected to two of our rooms. It was out of sight. There we could have meals together for the next few days. Some preferred to isolate themselves. The possibility that they may not make it home as soon as they wished before borders started closing, was closing in on their minds. Feelings of uncertainty were mounting. Best to keep to themselves. The program was taking a turn. It was nearly over, but a juggle of activities were still in place. One last place on the itinerary was an organic farm in the countryside. Not to worry. The fresh air would do us good. In fact, all three places on our journey were remote and steeped in nature. Souhail's farm as well as Souhail is a delight. It's his personal "Domaine Sauvage" under the stars. In the daytime, it's a glorious piece of property with hundreds of olive trees with vegetables like cardoons, carrots, artichoke and fava beans growing in the ground between the rows. We cooked and ate under the pergola that looked over the copper colored earth. So much food arrived. Traditional barley porridge, (list all of the dishes) Delphine, his wife, was there as lovely as always. We were happy to see each other again. This is the way it goes. I am fortunate to have friends like family all over the world.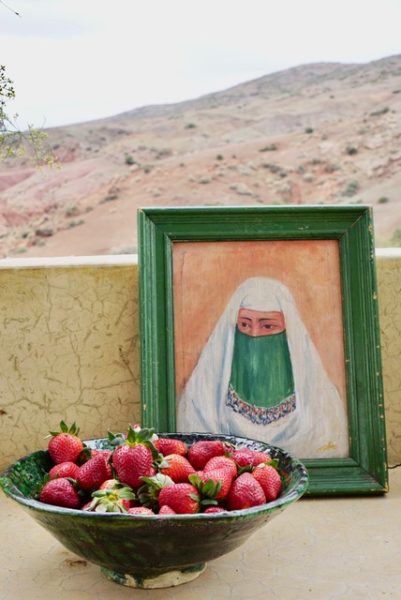 All was relaxed until we got a phone call from Meryanne of Tamsna telling us we had to go to the airport immediately, that flights were becoming less and less and that the government would soon shut down the airport. But wait, I thought. the cheese course is just arriving! Beautiful, smelly, ripe French cheeses were coming with fresh bread from the clay oven. Strawberries and tea were next. We dashed away with hardly a goodbye. An American eat-and-run. It was dramatic. Right out of "Casablanca". I received a call a bit later after I had gotten everyone in the car and down the road that we shouldn't and couldn't do that after all. It was only for UK citizens. But, it was too late. We were already "away". It was disappointing. But this was the theme of the last few days. Things changed within a blink of an eye. Dinner on the veranda was not its usual pleasure. People were starting to get weary..not for their safety..just how to get home and when. No word from the Consulate in days. No way to find flights online. No answers to any of our questions. The last night was anticlimactic. S
eparations had been made and presents had already been given. No Andalusian musicians were able to entertain us. That's the way this virus rolls. Our need for love, calm and solace during times of distress seemed verbotten. We had to self-soothe.
Some of our group got out on their original flights by a miracle. Two others found good solutions. The airport was a scramble as all of sudden Morocco decided to give two days before shutting down the country. We were 7 Americans and 2 Canadians. The UK Ambassador was quick to gather his country's subjects. The French were swift to find their own. The US drug their feet and the Canadian government even slower. I believe it's because they didn't believe there were so many people stuck in Morocco. Our Consulate seemed to be caught with its pants down. Who is our Ambassador? A former used-car salesman from Michigan who obviously has little experience with emergencies. Everyone made it out and found flights except myself and the Canadians. I wasn't actually looking for one. I had decided to stay and do a retreat. Staying in Jnane Tamsna for a few weeks until further notice was my cup of tea. Since the program was over, I could settle into my room and let everyone know that I had made a decision to stay. Even though Morocco wanted to shut down the airport, I felt they were being responsible for their country. I have only the highest respect for Morocco. I was there on 9/11 as well. It's a Muslim country with a Democratic leader/King. I have always been treated with the utmost respect. The protection of foreigners is paramount. This sense of uncertainty was coming from the US and Canada not moving quite fast enough, which was very surprising. Weren't we known for being the good guys? Number one? I wanted and was willing to stay a month, maybe even two. Gary and Meryanne had invited me to stay as part of the family. My family back home seemed to be alright with it as long as I was safe. I had planned to be away that long anyway in Italy. But Italy was "fuori la possibilita".
I snuggled into my room. I set up my meditation cushion and put my things away. I lit the fire. I felt at peace with my decision to stay and excited to have a retreat. I could get to the writing that has had to wait so long. I could also help Gary in the garden and work with Bahija on new recipes for the Tamsna kitchen. It was going to be a creative time that I craved. The beauty of this place and time seemed bigger than the coronavirus and I felt no sense of urgency or fear. I was comfortable in Morocco. It's been a familiar place for almost 20 years. Jnane Tamsna, the family of Gary, Meryanne, Thais, and Edward, was a safe haven for me. Not to mention, every Moroccan that I know, or have worked with came to me and said, " Peggy if you need anything, please call me. I swear I will come and fetch you. You are welcome in my home". And I believed them. I fell asleep easily.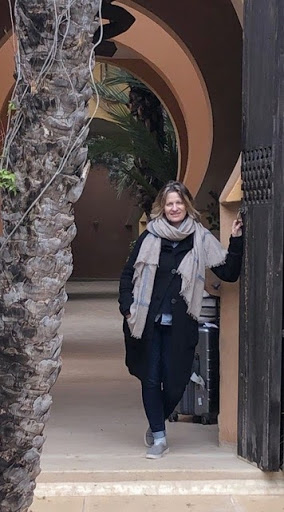 At 5:25 am my phone rang.. It was Jeffrey Markel. My x husband. We are good friends and have big respect for each other and still consider each other family. Jeffrey is a worldly man. He doesn't get alarmed easily. He can see the big picture more clearly than most. I picked up quickly and said, is everything ok? Well, he said, The New York Times headlines has just written that the US is sending evacuation planes to Morocco. You need to email this address and fill out the form and send it in. They will send you a confirmation email whether you should go to the airport or not, but you have to be there by 9:30 am. My heart sank. He said you don't have to if you don't want to. I think you have made up your mind. But Morocco has just declared a State Of Emergency and the airport may be closed indefinitely.
Crap, I thought. Indefinitely is a long time. 2 months, ok. But could they mean 3 or 4? Maybe even 6? That's too long. I didn't want to be away from my family that long under these circumstances. My peaceful bubble burst. My dreamy set up and retreat dissolved, just like a sand castle on the beach. I felt like Eyore. My ears fell, my tail and feet felt heavy. I wrote the email and got a confirmation immediately to go to the airport by 9:30 am. I started packing my bags in slow motion. I put my meditation cushion away. I packed my things I had carefully put away in drawers just 6 hours before and zipped my suitcase. I showered and dressed. I looked at the room and I walked out the door. The shortest retreat in history. At least it wasn't a tsunami with no warning. There's always something to be grateful for. It can always be worse. Perhaps a moment of peace is all we need. Even a glimpse of enlightenment is better than none. I reluctantly said goodbye to everyone at Tamsna and thanked everyone profusely. I said goodbye to the Canadians who had found a flight out through Casablanca and straight to Montreal. I got to the airport and stood in 3 different long lines until I was able to check in. At 11am I had a boarding pass in hand. We left Morocco at 1 pm.
Surreal was the word of the day. My friend Driss sent me a photo video of tanks rolling through the streets of Marrakech to be sure that everyone was complying on the shutdown. I wasn't convinced it was real. Yet, I had to admit that I was grateful that Jeffrey had called. I was still a little mad about abandoning my retreat, but I had to admit being near my family during the first and hopefully only pandemic ever to happen in our lifetime was important. I was in la la land not realizing the scope and breadth of the possible unknown danger. It also wasn't easy to throw myself out the door into the world of invisible germs. But I realized that as a traveler, I'm exposed to a plethora of bugs and perhaps I have some tiny bit of immunity. I feel good. No fever. No cough.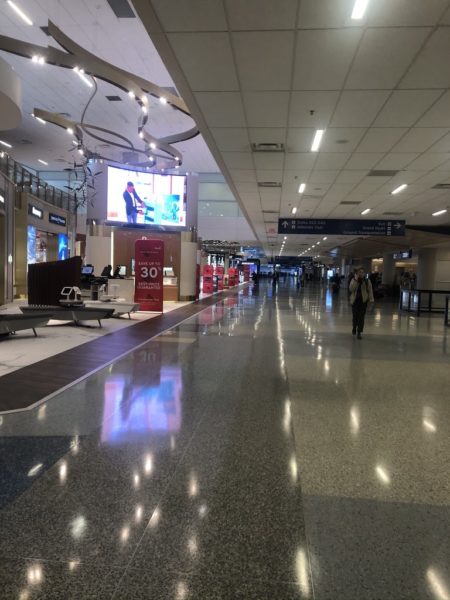 We came through London for a night. I abandoned the scheduled charter and took another route, thanks to my pal Patricia, an American airline pilot. She arranged a flight for me the next morning to Dallas/ Fort Worth, connecting to Denver. I would have gotten stuck otherwise. I worried they would make us wait in line for hours and take our temperature at customs. But they didn't. They questioned us and made us sign a sheet saying we declared no symptoms. I'm happy to say that I had nothing over 98.6.
It was still bizarre to walk the airports on a Saturday and see hardly anyone in three International Airports from London, Dallas to Denver. It was also wild to land in Colorado with snow on the ground. My grown children and grandchildren will breathe a sigh of relief. My x feels like a hero. David was happy to see me, maybe secretly ambivalent to have me so close after everywhere I'd been. But I volunteered to quarantine myself for two weeks, which I have. And me? I am just happy to be alive.. and well. Now I am at home, grounded for a while, cooking and writing up a storm. What a long, strange trip it's been.