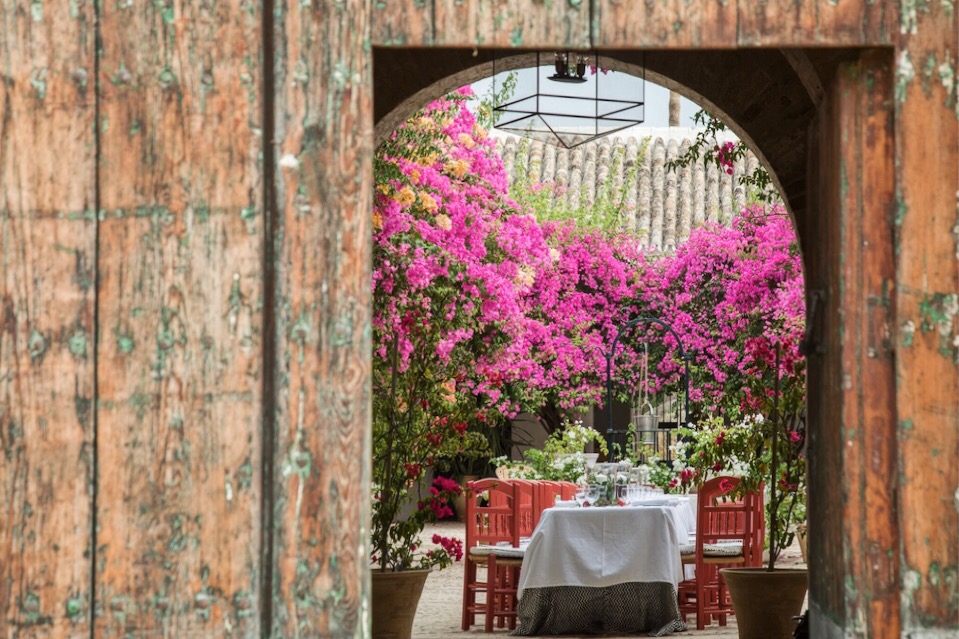 You may have already read information about our trip to Andalucia and the Algarve and may even have downloaded an itinerary for our Seville program, with a touch of Portugal in between. An itinerary is like a map — nothing like the territory itself when it comes alive in living, breathing color. I would like to share with you a picture of what it's really like, so you can appreciate what is on offer in more detail.
Invitation:
Words can't express the enthusiasm that
Andalucía and the Algarve
hold for us. It's all about the food but it goes deeper than that. There's no place like it and it holds a unique fascination that only that part of the world can offer.
Our mission is to get Spanish and Portuguese recipes viscerally etched into our memory to understand the cultural context that created them, not only to preserve culinary history… but to have a beyond-memorable experience.
Arrival:
From the minute we put our bags away at the stylish Corral del Rey in the heart of Seville, the party has begun. The hospitality of the Sevillanos descends. All smiles, with a head of wild hair, there is no one like our friend Anthony to bring Andalucia alive. We feel welcomed and drawn into the cobblestone streets to explore the ancient city built on alegría and well… reams of dramatic history.
The architecture alone is delightfully picturesque and impressive. We see charming squares, remnants of Sevilla's Golden Age when the city was glorified in the "
Mudéjar
" (a blend of Moorish/Arabian influences, since the Moors ruled for 800 years) and Gothic styles, such as the Seville Cathedral and Real Alcazar Palace. The king was very fashionable and wanted to mix the influences with flair… The Cathedral is home to the tomb of Christopher Columbus, an Italian actually, who discovered the Americas in 1492. He was not so diplomatic in his discovery, yet he brought great wealth to the Spanish Kingdom of Ferdinand and Isabelle, his benefactors. Another Ferdinand, Magellan, also began his voyage to circumnavigate the globe from Sevilla in 1519. This is explorers' land.
Tapeo:
Locals in Andalucia pour into the streets in the evenings for the traditional Tapeo, tapas crawl, and so do we. Surfing from bar to bar, we feel the love while enjoying the small plates that represent southern Spain in true Andalucian enthusiasm. Melt in your mouth jamón, patatas bravas, fried fish and sea anemones, tiny clams, and the ubiquitous line of sherries, from dry Fino, Manzanilla, Oloroso and famed Palo Cortado, down to the sweet Pedro Ximenez (poured over vanilla ice cream). Sevillanos love beer as well to wash down their tapas, but don't expect to see too much wine. That comes later. But what you will see are people with a passion for life who love to get together with their friends.
History:
A history lesson while visiting the Alcazar in Sevilla puts everything into perspective. Amazing gardens, fountains and tile work, fit for a King and Queen. We ooh and ahh as we stroll the city, stopping to sip a cool beer under the shade of bitter orange trees dripping with fruit in the small plazas, bright and warm with Andalucian light. It's mind-blowing to imagine this was already a sophisticated way of life before the discovery of America.
Olé!:
Seville is one of the capitals of Flamenco and it does not go unnoticed. We get up close and personal with the dancers, feeling the vibration of their stomping, and palpate the energy coursing through their bodies, faces wet with passionate perspiration to the intense strums and foot taps of the guitarist. It's a language that needs no translation and an expression of the creative ways the Roma dealt with their misery, challenges, joys, and passions. We have free time to explore before being scooped up by elegant carriages for a ride to the Plaza de España to marvel at the 1920's architectural masterpiece.
Next stop:
Pig Farmers In Love. Should be a novel, then a movie. Driving to the western edge of Andalucía, we find our friends Lola and Armando in Aracena who have a farm of giant acorn trees for the famed Iberico black pig to graze on. Walking with the friendly pigs in such a bucolic setting warms your heart to proper animal welfare. Produced organically, these pigs have a happy life. If we are going to enjoy a premium-product, the least we can do is know where our food comes from and how it was grown. We are out of sherry country here, and enjoy a nice picnic with a bottle or two of Tempranillo to savor our melt-in-the-mouth jamón Iberico, pork steaks, salame and vegetables from the garden.
Across the border into the Algarve:
Since the Portuguese border is only 40 km away from Seville, we found it absolutely enticing to cross over. We are only dipping our toes into Portugal for 2 nights. It just felt irresistible to take advantage of the "soft and discreet" nature of this part of the Iberian peninsula and have a sleep in a whitewashed private guesthouse in the countryside, tasting local stews and refreshing white wines of the region.
We will visit the famed southern region of the Algarve — a picturesque lowland close to the sea with inlets that border a dramatic coastline. We will sail the inland waterways and feast on super fresh fish as the Algarve is known for its seafood that comes from the clean cold waters of the Atlantic.
Quoting Portuguese poet Miguel Torga: "
For me, the Algarve is always a holiday in my homeland… I feel free, unburdened and content – I, who am sadness personified.
" And that is what we all want too. No?
Onward to the Hacienda:
Back over the border into Andalucia, the land of black bulls and bravado, we settle into the Hacienda de San Rafael. It sounds just like it feels, spacious and sophisticated. Whether surrounded by sunflowers in the summertime, cotton fields or endless groves of olives, this place is a destination. You go there… and… drop in. The invisible red carpets are rolled out, drinks are poured, we settle in and for the next few days, we are at home.
Breakfast is served on our individual terraces with freshly squeezed orange juice, carafes of freshly-brewed coffee, eggs, breads and jams, and the ripest fruit. It's laid back and we have time to wake up slowly.
We have a few special days planned, including markets, several cooking classes and chasing the tuna. But we always come back to Chef Isabel for dinner. Perhaps we'll bring her a fresh catch… In return, she'll teach us how to cook it the Andalucian way.
These days will make you wish you lived in Spain in a whitewashed Hacienda, complete with smiling faces that greet you and serve you delicious food. Here is where we stoke the fire, here is where we learn a few recipes from Isabel, here is where our palate is pleased and our whistle's whetted with sherry fino and more.
Sherry:
Jerez de la Frontera is also known as Sherryville. Just 25 minutes down the road past rows of palomino grapevines, Jerez unfolds with a solera perfume. Sherry bodegas are plentiful, but we have our favorites among large producers with stately warehouses of buggies and barrel stacks, and smaller cantinas of artisan legacy.
Have you ever had a flight of sherry? It can often be 11 different bottles in a flight with an even longer and complex history. Once you wrap your mind around sherry, you become a sherry connoisseur wannabe.
I hope this letter will bring Sevilla closer to your heart and that you will consider joining us in southern Spain and Portugal. The south of any country has a warm welcome and Sevilla is no exception.
This is my attempt to bring a flat map's territory to life for you. You will feel the ground under your feet and soft air on your face. And for certain, our hearts we will fill. Let us know if we should hold a spot for you.