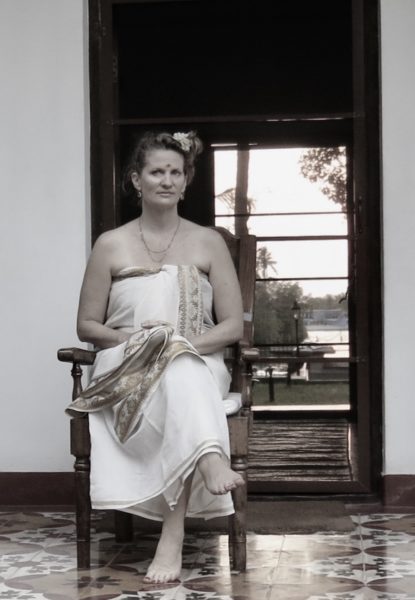 A Maharani Tomberati Indian princess, I have never been, but never say never, as I lean against the strong balcony of the 400 year old mahogany summer home of a Maharaja- the place to myself. Four people sweetly look after me, while I try to look after a much neglected meditation practice and write. I set up shop on the narrow, flower-tiled veranda looking out through no less than 25 teak shutters onto the lagoon. If the monsoon comes heavy, I can float away like the arc, gathering good Indian qualities and food traditions to preserve into the future.
White egrets fly past my view like a melody. The cuckoo serenades. The sea eagle~a raptor with a taste for fish~ circles and catches his prey. The air is soft, but alive, gentle and melodious. I find myself in the family of elements and let them speak as I introduce myself to them. I am a guest, not only of the house, but of the nature around me. I am foreign. I have a different smell, my mind brings a new energy. Therefore, I enter the space delicately but wholeheartedly, taking my place on the porch, a keen observer.
"Lakes and meres adorned with lotuses
All plaintive with the sweet voiced cries of water birds
And lovely to the eyes and all things wild and free
Stretching to the boundless limits of the sky.."
I sit in this text from the Bodhisattvacharyavatara quietly listening, filled with joy and sadness at the same time. A feeling of gratitude sweeps over me, like something so beautiful is hard to take. Surely, I have fallen into a slice of heaven that questions how one merits such a thing.
"Way back in the eighteenth century, an enlightened monarch discovered that power is not about cavalries, splendour is not about gold, and true sovereignty is the freedom to surrender to the divine. That's when the Rajah of Cochin built a temple for his family deity in the quiet hamlet of Chittoor. A fervent devotee, he soon realized that he could not stay away from the temple. So he built himself a manor just fifty yards away from the temple. Simple, elegant and regal."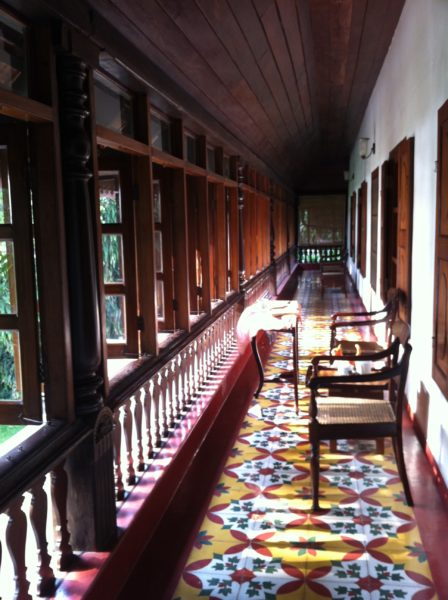 Hindu's believe in the invisible world and the benefit of communicating with the deities as if they were alive and well and in service to them. Otherwise, why would a priest rise at 4 to sing ragas with such devotion? I lye in bed, before my own meditation and listen incredulously at the passionate chanting. Not in the least annoyed, I felt privileged to let the sound massage my mind, opening it to new levels of listening.
Before sunrise, I walked out on the veranda and heard a splash!  My eyes prostrate out to sea for an extended view of the lagoon. I could barely see two legs walking gently into the water, then the rest of the body followed.
He sank into the wet up to his neck and walked slowly. Was he feeling around under the water? I had heard of fishermen in the backwaters of Kerala catching fish with their bare hands, and remained incredulous that it was happening before me.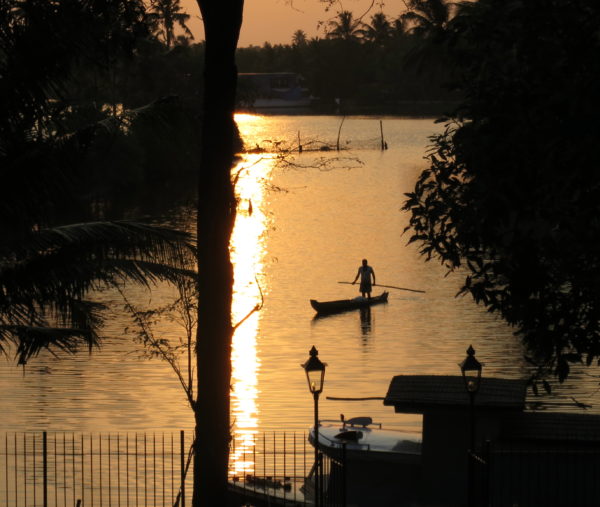 Junaid, a young Muslim, came up the strong mahogany stairs without making a sound to bring 'bed tea' at 7 am. But I wasn't in bed. He found me already on the veranda pointing to the man. Junaid said "oh yes, and he's a very experienced fisherman. He will catch fish easily when they brush against his leg, whether fish or prawn, he bends down and grabs quickly."
I asked him if he was familiar with the Sufi poet Jallalladin Rumi. No,
he nods, and takes the book from my hands and reads a poem called "Prayer is an egg". A rather dramatic poem about not doing daily prayers like a bird pecking, moving it's head up and down, but by praying sincerely.
"Prayer is an egg. Hatch out the total helplessness inside".
He smiles and says, "we must pay attention to what we do".
We watch the fisherman feel carefully under the water. Sometimes he dips
all the way under, comes back up and puts something in the boat. His brown skin glistens in the early morning light. It matches the mahogany veranda. He is wearing nothing but a dripping dhoti. He hops back in his boat as nimble as a cat and slowly, slowly lifts his net, cleaning it as he goes. He carries on in tune with the ancient art of catching fish by hand, while the world announces with an out of tune bugle that i'ts time for school.
Junaid, also the cook's helper, runs down to the pier with a basket. Milton, head of the household runs next, then Annie, the cook, joins as well to delight in the catch to choose what she wants. Everyone is smiling. Meen moulee on the menu tonight, yet not in this Maharaja's vegetarian household, but in their own. Annie has made other delectable items for me to taste.
On the silver Thali, one by one, I savor flavors that I have never tasted before. I test myself to see if I can pick out some of the ingredients. After spending a month in India, I know what dishes are 'tempered' before and which ones are 'tempered' after.
There are new sensations one right after the other and that is what this cuisine is all about. Three one-inch potato squares and pineapple slices have been saute'd in a little ghee, black pepper and fresh coriander.
Never have I seen potato and pineapple on a plate together. But why not?
Banana flower kebob with sesame chutney, so tasty, that I could dream about it. Carrot soup came after, pureed with tomato, ginger and onion; fresh coriander leaves to garnish. It's the first time I have thought to put tomato with carrot in a light, blended soup. I knew at some point that I would have to ask permission to get into the kitchen. Janaid demonstrates how to grate fresh coconut, Annie shows me the fine art of banana fritters and Milton, the fine art of Indian head-bobbing.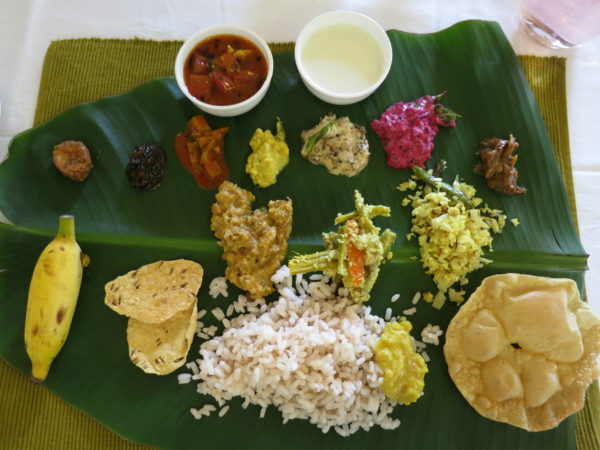 Each night, Milton set my place at the table in a new spot. For 5 nights, I made a tour around the table and he stood, dressed in his whites and dining room service cap and entertained me with stories of the old days, the history of the tiffin, a discourse on poppers and poppadoms. I have never laughed so hard. His stories so ernest and embellished. I never once felt as if I were dining alone.
Nor did I ever feel alone, so held I felt night and day, in a safe container of care.
Chittoor invites you to take a seat in yourself.  Days passed and I sank further and further into my own well.  Half awake, half asleep I rise from an afternoon rest to the sound of a cuckoo and "ma'am your tea is ready". I find it hard to wake. The dream continues as I sleep walk to the veranda, welcomed and caressed by the breeze as if it seems to say.."ma'am sit here and gaze awhile upon the water. Let me delight you with what I can do. I can make ripples, birds fly and coconut palms sway."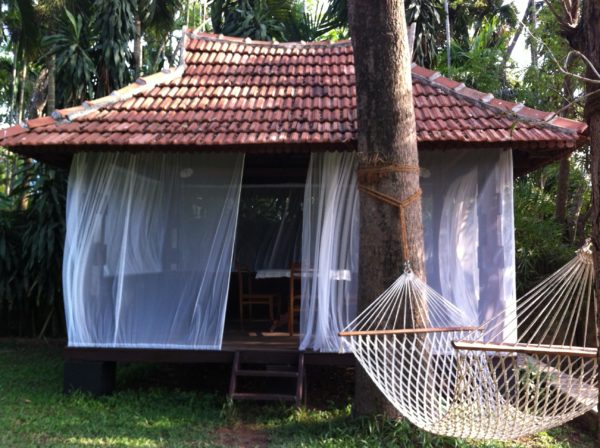 Everyday, a new afternoon sweet is served with my tea. Leafy green, or perhaps masala chai, certainly there will be something new to delight my excitable palate. This afternoon? A plate of uniuppam. Small dense rice flour muffin bites, sweetened with jaggery and scented with cardamon. As I sat drinking my tea, I see something slinking along the edge of the garden. Then I see two. "Mongoose!" said Janaid, as he poured the tea carefully, smiling with his eyes.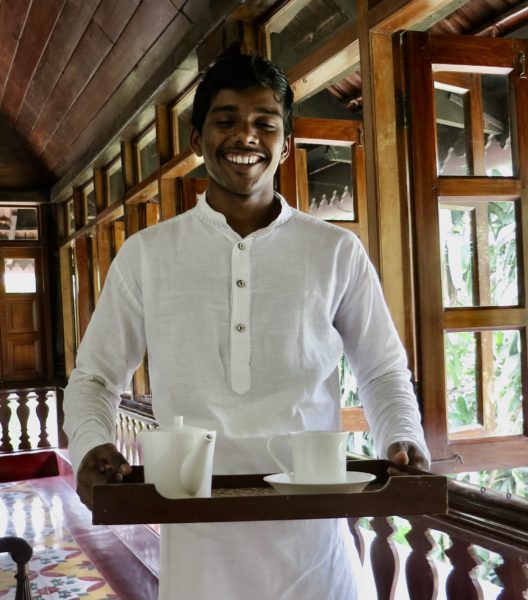 I saw a civet cat with rings around his tail one morning as well. A place that attracts animals and birds is a true kingdom. I must really be in India.
Rarely, does one person get to be taken care of and be left alone to be quiet at the same time, much less in the style of a queen. I was not prepared for the experience that Chitoor Kottaram was offering.  What happened there was extraordinary on a personal level. We had A tv show in America in the 60's called Queen for a day. On the show, you were presented with all sorts of prizes, like a new washing machine, a car, something material. The ladies always looked uncomfortable and embarrassed, yet overcome with joy. Were we so desperate as women back then that a new washing machine was the antidote?
In my busy life, the antidote was a place to sit still. Finding the right environment is key. You know it when you feel it. It's like sacred space. The Buddha found the Bodhi tree and there he sat immovable.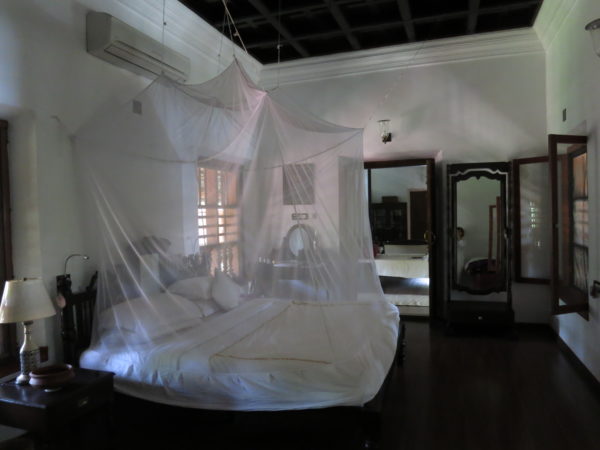 At Chitoor Kottaram, I was not only treated like a Thompurati. I was treated as if I was one. I was taken care of in a way that I have never been taken care of in my life. I suppose it depends on where you are in your life, your personal growth, as to what kind of benefit this will have.
I cried for a few days at Chittoor Kottarm towards the end. I couldn't eat without welling up with tears. The movement of gathering various flavors from the Thali Bowls, mixing the rice with the dahl scented with ghee, the bitter gourd with coconut, the pickle, the papam and eating with my fingers. Touching my lips with my fingertips, was primal. I was feeding myself as a mother would feed her child.
With the care that I received from Milton, Annie and Janaid, it hit me how healing the situation was. I cant explain it. But it made me cry.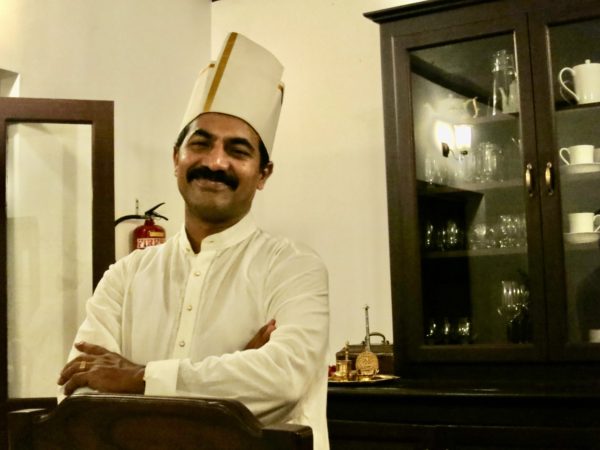 My heart was cracked open from the sounds of the water birds, the warm air, the kindness of the caretakers, the act of tending to my body, speech and mind like no other time in my life.
It has filled the well for others to draw from and that is the most important  thing. I am able to give back from a noble place inside myself, from living in noble quarters, treated with kindness and respect.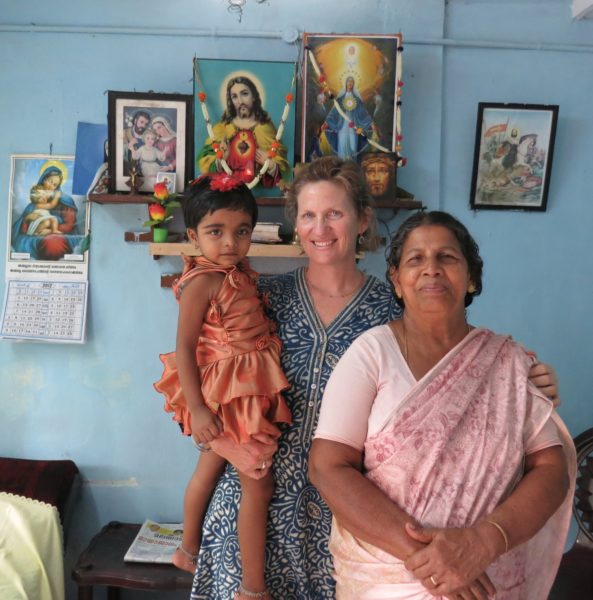 Women need retreats. Mothers also need to be cared for with this sort of immense respect and love and care. I found myself in a cradle of loving kindness. I relaxed, was deeply nourished and left vulnerable with a question. Why is it not this way more often? We can care for ourselves in a loving way, if we only would. We must.
…….
https://www.cghearth.com/chittoor-kottaram
https://vimeo.com/60326631
Video of Milton explaining the Tiffin Story