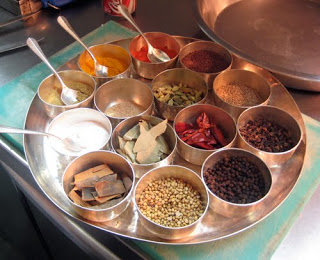 Devigarh, my favorite place aesthetically, is an 18th century Palace fort that royally commands the valley, looking out over the Aravalli hills. Bo-chic in style, the interiors are minimalist yet traditional, leaving more out than put in. An awesome aesthetic, if you like austere five-star elegance—a bit "Indian Zen.
The surrounding natural landscape offers solace. The colorful village below, with intermittent baby blue houses, offers charm. The color motive is two-fold. It keeps insects and bugs away and praises lord Krishna at the same time.
The lifestyle of the villagers has not changed much, at least to the western eye, in what seems an eternity. Barefoot shop owners sit before scales on old wooden counters or on the floor. Some are turbaned, some are not.
Men sit on stoops, children run around, women carry food or water jugs on their heads and glide gracefully in their saris, sit as vibrantly colored as the fruits and vegetables they sell. Brahman humped cows wander the streets freely. Elders seem to indulge their children with laps and caresses rather than candy and material goods. The village astrologer sits on the corner, dressed in red next to a sky blue wall, waiting for a consultation. Carts of vegetables display simple local fare with names like "lady fingers" and "gentleman's thumbs."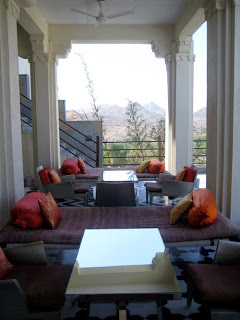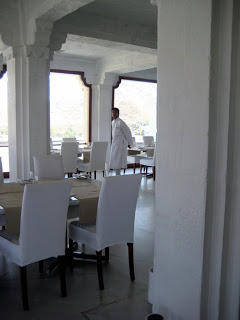 We followed some of the women through one doorway and found an old man making terra cotta pots used to store cool water. White hair and beard, he stooped and twirled his wheel with a stick. Once it got going to the speed he was happy with, he threw some clay in the middle and started molding. Three small pots were produced within minutes.
From what I could gather, the small village flowed from Muslim to Hindu, Jain to Tribal, although it was predominantly Jain. Extreme vegetarians, they wear no leather and avoid killing anything that moves, even going as far as to not eat roots, but only what grows above the ground. Their business is business—noted to be some of the wealthiest in India. They compensate this fact by giving back and supporting schools and communities with various projects. Visiting a temple on the way out, an old woman blessed us and helped us with an incense offering. The village and the gods are well looked after.
Back to Devigarh, we entered another dimension—simple, yet lofty luxury. In my room, a palace suite, a painting of a large lotus unfolded over the whole wall. The stunning countryside view was central to the bed rather than a television. The bathtub was full of rose petals, which I let lay. An aryavedic massage had left me with oils that I didn't want to wash off.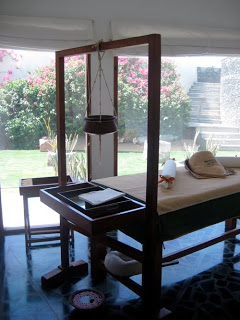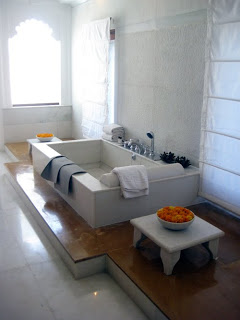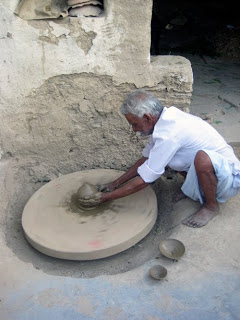 Dinner was served in the "airy chamber;" a small room that extended from the wall of the fort with small open windows—candle-lit and cool. We ate thali and drank a glass of Indian Viognier. My friend Shoba and I discussed arranged marriages in India. What it was like to live in a large household with no privacy and the new wave of working women in India.
Our conversation was carried around the empty rooms of the Palace to the left and to the right, on the notes of water music—bowls of water with varying levels, played with sticks.
Getting into the kitchen the next morning, after a tasty mango lassi (yogurt drink) was a honor. Chef Manish Upadhyay was shy to show me a few of his favorite dishes, but we became fast friends. I marveled at his show of spices. He showed me a few south Indian dishes, with shrimp and coconut milk, but it was the makai pudina ki tikki (corn fritter) with mint and green chili sauce, that was my favorite. (I have made that dish several times now for friends and family. One restaurant owner wants it on his menu.)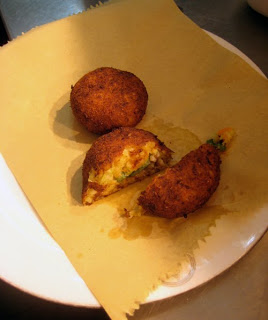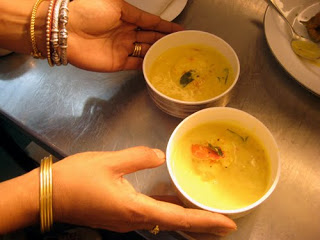 We left reluctantly. Driving away, not half a kilometer, was a living scenario from 1,000 years ago. Women in typical Rajasthani red, orange and gold saree's, were walking down the road with silver water jugs on their heads, headed towards a small well that was pumping water from oxen power. An old man sat on the back of small wooden-wheeled buggy driving them around and around, while an old water wheel scooped the water into strapped-on terracotta jugs and poured it into the hands of the villagers who were bathing and washing clothes. Bits of color bent and bobbed in the background. Women were gathered in the distance thrashing wheat.
Learn more about our 12-day culinary program in India.