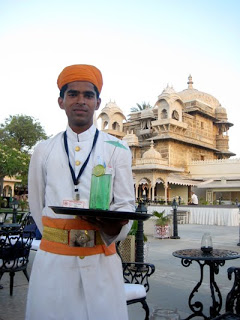 Udiapur is known as the city of Lakes.
The Lake Palace Hotel was conceived (in romance?) and built in 1746 by Marharana Jagat Singh II. It spreads across a four acre island, a complete vision of white marble.
Somewhat Venetian, the ground is not visible at all. It seems rather mythical and floating. One has to arrive by boat (anywhere one has to arrive by boat captures my attention) and I felt instantly transported into never-never land. Inside, royal butlers attended to my every need (even hooking up to modern day internet!). They stood with umbrellas as I waited for the boat under the Rajasthan heat. This was no Disney Land show. It is now exactly what it was several hundred years ago.
A turbaned flautist presided over the interior lily pond as I dined serenely alone, getting lost in the new flavors before me, my mind open and calm with a view to the lake.
Later, I visited the kitchen with awe. Here in this five-star hotel, they were cooking with wood fire. Not just in a deep tandoori oven, but in small painted terracotta ovens, that sat on the waist-high counter that housed the fire. Black terracotta cooking pots were settled over the bright coals. A flat stone girdled one of them, as a place to grill.
Fire is fire wherever you go, what is cooked is very similar. How it's presented—who's cooking it and to whom—are what distinguishes it. I asked the chef a few questions about his cooking, he said he was inspired by his grandmother. Cooking was just cooking to him, until it became noticed as a celebrated art as recent as the 70s.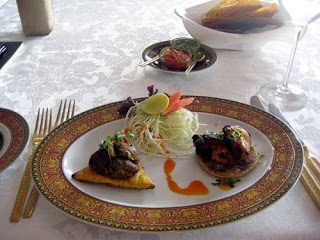 I remember the presentation almost more than the food. I had eaten Indian food in America and England, but not in India. I realized that I was in a whole new realm of regional display. Palatial at that. It was easy to dream myself a Palace dweller. More than likely I would be in the kitchen, rather than wearing jewels in the Kings Court. But one never knows.
Raw mango puree with salt and mint.
Sarson Ke Phool: broccoli marinated in mustard paste and slow roasted sitting on crispy karum bread.
Soola Mung: Chicken marinated with chili and ground onion paste, salt, pepper, lemon juice, then grilled in a tandoori ovem.
Sangri: ongbeans, sliced and sauteed w/pickling spices mixed with dried fruit
Tnikri Dal: melange of three types of dal with garlic, ginger and chili's, cooked in an earthenware pot.
It was my first Indian meal presented on bone china. I was alone, and therefore, I was able to concentrate on these new flavors and indeed sink into their company. My own private concert with notes I had never tasted. Not only was I delighted, but intrigued. What was the genius that brought these spices together? Thousands of years of creativity and necessity. It was the greatest welcome. I did not feel alone at all.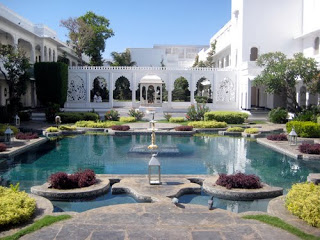 After dinner, I was led through the City Palace, with it's mirrored rooms and peacock mosaic archways. I started to get the picture of life in a place of this majesty and magnitude, impressed most by a swarm of bees that made a home on the side of a balcony.
No doubt royal bees.
Learn more about our 12-day culinary program in India.