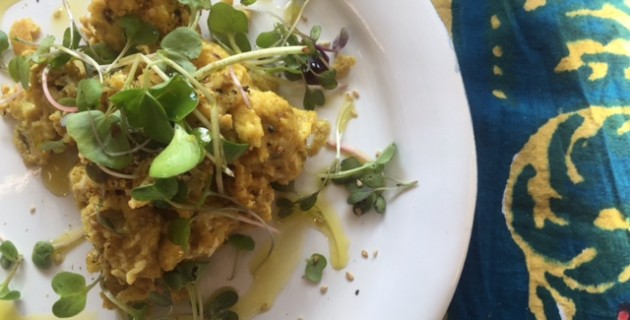 It's Sunday morning and I'm hungry. I remember that I have some super fresh eggs from Cure Organic Farm, from just down the road. I think to myself, shall I scramble them? Over easy? Poach? Yes! I say to myself with that smile that knows just exactly what to do. Not only will I scramble them, I'll dress them up ~ Indian style!
What does that mean exactly? It means tempering your oil with spices before you pour your beaten eggs into the pan. I use a variation of fat, depending on what I what. I use a nob of butter with a drizzle of olive oil at times, other times I use ghee, but my favorite is coconut oil which gives it a south Indian flare.
When the oil is hot, I drop a teaspoon of mustard seeds in to sizzle, then finely chopped garlic ginger paste, then a quick 1/2 teaspoon of turmeric and cumin and a dash of cayenne. The aromas take me back to Old Delhi to Chandni Chowk spice market, where you witness heavy burlap bags of cayenne on the backs of men, ready for delivery.  The beaten egg mixture already has a generous pinch of salt and a twist of black pepper. It's ready to be added to the pan. Stir slowly and deliberately for the next few minutes using your wooden spoon or flexible spatula to clean the sides and bottom of the pan while you watch the eggs scramble. Keep them a bit wet and serve immediately with a touch of finishing salt and micro greens. Spicy eggs you will be having. Namaste.
Ingredients:

6 eggs, cracked into a bowl

Add 1/2 tsp good salt ~ or to taste

2 T of coconut oil

1 t ginger garlic paste (1 inch fresh ginger chopped finely, mixed with 1-2 garlic cloves, chopped finely then mashed)

1 t of mustard seeds

1/2 t of turmeric, ground

1/2 t of cumin, ground

a pinch of cayenne

salt and pepper to taste
Preparation:
Mix the eggs and salt and set aside.
Take a small well seasoned frying pan and add the coconut oil on a medium flame. When the oil is hot, drop in the mustard seeds to sizzle. Add the ginger garlic paste and stir around, making sure it doesn't stick. Quickly add the rest of the spices and stir. Pour in the cracked egg mixture and continue to stir slowly as you would scrambled eggs. When the eggs are mostly cooked but still look a little wet, remove from the flame and serve. Sprinkle a finishing salt, such as Maldon, and a few pinches of micro greens. Drizzle with a bit of extra virgin olive oil. A1.
Serve with warm chapati, toast or crackers. Sliced avocado goes well. Or rice and mango pickles.
For more superb Indian recipes, join us in our Culinary Adventure in India: Tasting Royal Rajasthan