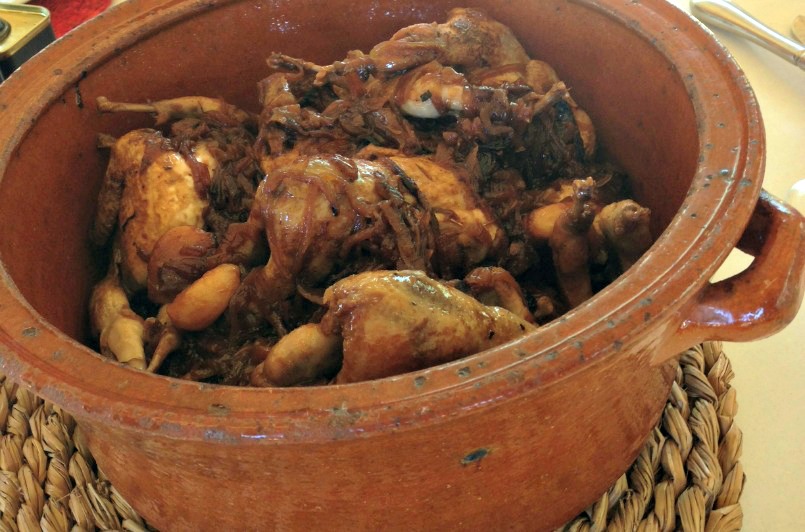 Preparing quail can be intimidating for some people. Isabel, the chef at Hacienda de San Rafael near
Seville
 , showed us how to prepare them so they are succulent and delicious. The addition of sherry truly elevates this dish!
Olive oil
8 quails
3 onions, cut lengthwise
2 garlic cloves, peeled (but not chopped)
1 chicken stock cube
2.5 cups solera sherry
Salt and pepper
Preparation:
In a frying pan over high heat, warm 3 Tbsp olive oil. Working in batches if necessary, brown quails on both sides, until golden brown.  Set aside.
In the same oil (adding more oil if necessary), sauté onion and garlic over high heat until very dark and caramelized. Add solera sherry, crumbled stock cube, ½ cup of water, and salt and pepper to taste. Reduce liquid for a couple of minutes.
Transfer quails and onion mix to a covered dutch oven (legs up) or pressure cooker. If preparing in dutch oven, cook over a low heat for 15/20 minutes. In pressure cooker, cook for 10 minutes.
If needed, remove quails and reduce sauce further.
Yield: 4 servings of 2 quails per person. Serve with rice.
Note: Quails can be replaced with bone-in chicken thighs and legs if desired