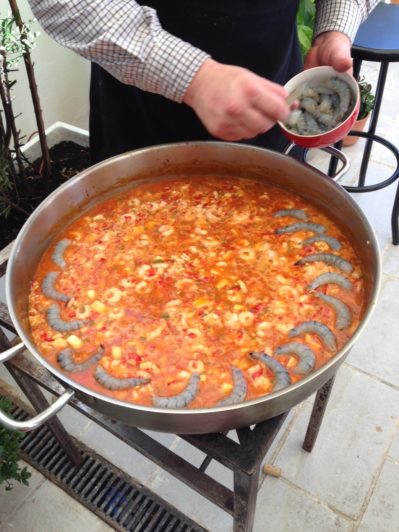 No trip to Spain would be complete without sampling their famous rice dish, paella. The ingredients vary from region to region but we made this particular paella during our last culinary adventure in Seville:
The Scintillating Flavors of Seville
. While visiting Granada for our
Culinary Retreat in the Alpujarras Mountains
program, we prepare our paella with peas and chicken on an outdoor fire. Try both and see which one you prefer!
12 oz. prawns
12 oz. squid
3 tablespoons olive oil
1 onion, peeled and chopped
2 tomatoes, chopped
1 clove garlic, peeled and minced
½ red bell pepper
Prawn stock (see #1 for recipe)
Pinch saffron threads
Salt
1 lb rice
Preparation:
1. Clean the prawns and the squid. Put prawn heads and shells in pot, cover with water and make stock.
2. Meanwhile, in a large, deep pan heat olive oil on medium heat. Add onion and sauté for two minutes. Then add tomatoes, garlic, and bell pepper. Sauté until garlic is golden but not brown.
3. Add the chopped squid.
4. Add the rice and stir it constantly to coat with oil.
5.Then add the prawn stock made with their heads and the saffron and salt.
6. Stir constantly at high heat for 10 minutes.
7. After 10 minutes, add the prawns at medium heat. Keep stirring until the liquid is almost all absorbed. Add more stock, if needed.
8. Remove the pan from the heat, cover and set aside for 5 min.
Serves: 4-6