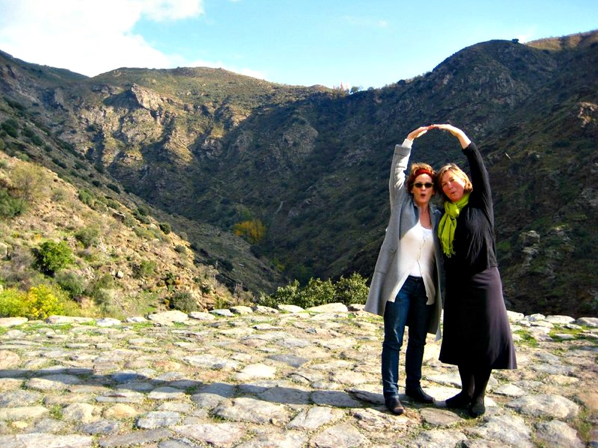 The first thing I do when I wake up in the Alpujarras mountains at the foot of the Sierra Nevada is put on my shoes.
The earlier the better, even with a brisk chill in the air. I head happily through the village and down the trail to the fuentes (natural spring). I know that the more I drink of this water, the better I will feel upon leaving. Lightly frizzante, the taste from these ancient fountains is cleaner than wine and even more delicious than…water.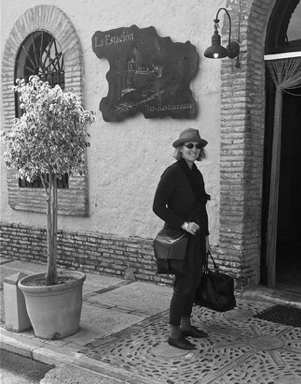 The tiles on the fuenta have been in place for hundreds of years. It's a place of pilgrimage, and I often feel like a pilgrim when in the Alpujarras, staying at Casa Ana. The worn pathway that cuts through the village to the spring passes olive trees, wild figs, old stone walls full of wild edibles that peep out to be picked. The sound of sheep and their bells flowing down the hills is nothing less than bucolic. Gathering water for drinking and cooking becomes a job I look forward to. It's my way to commune with the chestnut tree, the "era," the old threshing grounds, to offer prayers to the low-lying clouds.
Whether day or night, this walk is magic. I am never afraid. And when I return, there is always something welcoming in the kitchen. I can smell the casuela cooking; the smoke rises from the chimney. My partner in Spain, Kim Schiffer, has the home fires burning with a smile on her face. Something sumptuous is always simmering in her clay pot.
Five days in these hills cooking, tasting, hiking and learning is restorative. Landing in Malaga, drinking cafe con leche and shopping at the covered market for our weeks supplies is colorful to say the least.
After our five days in the hills, Granada gives us grandeur, a step back into Spain's elegant past, while we taste delicious sherry, local olives, cheese and chocolate.
Getting a feel for remote southern Spain is an off-the-beaten-path adventure to be savored. As culinary pilgrims, we can wander into the kitchen for a brief stay, knowing that we will find friendship, hospitality, some ancient transmission, at least something good to eat. It's good for the soul.