The winds blow northerly as we head straight into them on our way to the isle of Capri after sailing around Ischia and Procida in the Bay of Naples. I feel like we've been on a sea-fari. We see mythical islands, mix with the elements, while staying safe on our boat protecting ourselves not from wild animals, but a deep blue unpredictable sea and sky. Our captain reads the weather like a book, knowing when and where to go. It's like being in the hands of a magician.
Each place we visit, whether it's a pastel village or a turquoise inlet is like seeing an exotic bird, a relic, something from the past wrapped up in invisible paper and string…
Something for us to marvel,
unwrap with our eyes and discover.
Life at sea for seafaring men is a natural habitat. It's a song that sings naturally in their soul, not unlike a farmer on land. Watching my barefoot captain read the wind and steer the sails accordingly is a type of sailing ballet. It's theater with an ever-changing backdrop of deep blue sea, infinite blue sky, and clouds that take your breath away, all while being in motion. I've never seen so many wispy, dotty, puffy, ribbon like clouds… Walking on a moving boat takes finesse and agility. I watch my captain do most everything with ease. He can fish, cook, climb the mast, fix most things, and all with an easygoing happy-go-lucky attitude.
The art of sailing of which I am only an observant student is a study in movement. Depending on where you need to go, you may have to tack a zig-zag course. Eventually you arrive at your destination. It's SLOW. It's more like the "zig zag way of the cosmos" says the I Ching, the famous Book of Changes.
It's a way of being in harmony,
going with the wind, instead of fighting against it.

Reading the invisible is what we all wish we could do.
You can feel the wind but you can't see it. It affects everything and it's easier to understand that everything is interdependent and constantly changing. Being able to notice these changes and harness the wild unpredictable energy of the moment and work with it is a metaphor for life. It's what gets us through to where we want to go…
And in this case… knowing we have delicious wines from Campania and fresh lemons to make an assortment of delicious dishes, makes the SLOW journey a pleasant one! Mostly it's smooth sailing. The Mediterranean in June is a forgiving sea and the most beautiful time to enjoy sailing around some of Italy's most famous and inviting islands. We visit classic spots along the Amalfi Coast, like the town of Amalfi, the oldest Maritime Republic full of life and lemons, Positano and Nerano. We cruise along to find the calmest most azure swimming and lunching place to anchor, where we pop on our colorful tablecloth, toss a bowl of spaghetti alla vongole, dine on cool sweet melon and after.. dive into a fresh, cool, salty sea.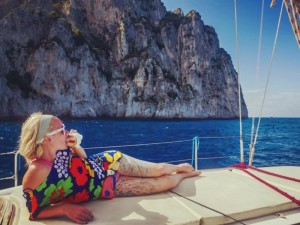 If you picture yourself lying about on the bow of the boat, sunning or sipping, while passing impressive rock formations, like the Fariglione that jut straight up from the sea off the coast of Capri, and you dream of dining on the freshest Mediterranean ingredients plucked straight from the source and cooked on the spot, then don't miss this one. 
I love it too… the wind in my hair… the smile on my face… meaningful time spent with old and new friends… This is la bella vita… a moment to relax and enjoy life.
Can't wait for June 2017! Book it now and come sailing with me. It's a special year for a few reasons.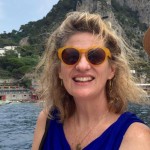 Our 25th anniversary and a big birthday all at once. I plan on celebrating and counting my blessings!
Come sailing with me… There are only 4 cabins. If you come you'll be counting your blessings too!
xx
Baci,
Here are some more posts we think you will enjoy:
Learn more about Peggy Markel's upcoming Culinary Adventures. Click here!