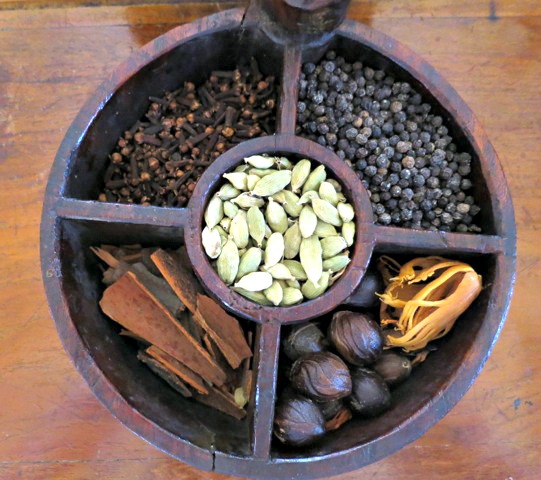 Chicken Korma is one of India's most popular recipes. Recipes abound for this dish but make sure to try this great version from the chefs at the beautiful Devi Garh hotel in Udaipur, where we spend the last night of our Culinary Adventure in northern India,
Tasting Royal Rajasthan
. Our guests rave about this recipe when they return back home.
Ingredients:

3 Tbsp clarified butter (ghee) or oil
1 piece cinnamon bark
1 bay leaf
1 each mace
3 cloves
3 cardamom seeds
3 black peppercorns
18 oz boneless chicken thighs, cut into large pieces
1/2 cup red onion paste (recipe below)
1 tsp ginger, grated
1 tsp garlic, minced
1/2 Tbsp turmeric powder
1 tsp coriander powder
1 tsp Indian chili powder
1 Tbsp cashew butter (un-roasted preferably)
2 Tbsp heavy whipping cream
1/4 c yoghurt, plain
salt to taste
 Preparation:
1. Heat the oil and add the whole spices, let them crackle.
2. Add the onion paste and stir. Sauté for 5 minutes.
3. Stir-in ginger, garlic, turmeric, coriander and chili powder. Add 2 Tbsp of water.
4. Mix in chicken and sauté for a few minutes.
5. Add cashew butter, cream and yoghurt. Cook for 5 minutes.
6. Add 1 3/4 cups water and let simmer for 20 minutes.
7. Adjust seasoning and serve with naan, roti or steamed rice.
Note: To make onion paste: boil a red onion for 10 minutes. Puree in food processor with some of the cooking liquid. If you want, you can freeze the leftover onion paste for when you have a hankering for chicken korma.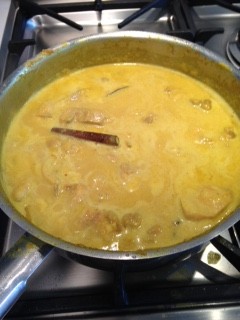 Photo: Amy Roth, NYC Private Chef and PMCA Alumna x2