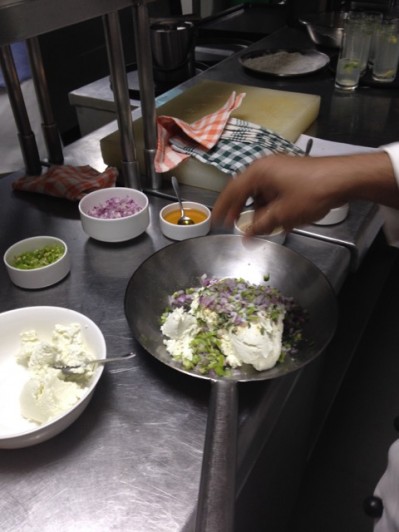 When visiting Jodphur as part of our Culinary Adventure in India "
Tasting Royal Rajasthan
" we stay at the beautiful Raas Hotel located under the imposing 
Mehrangarh Fort. The rooftop views are magnificent, as is the food.
While in the hotel we have the opportunity to take a cooking class with  the chef and his expert team. We learned a variety of dishes from Tandoori chicken to a delicious tomato shorba, but these yoghurt patties were what we were all talking about after the class.
They are perfect for summer entertaining. Enjoy!
Ingredients:

32 oz very thick greek yoghurt
1 small red onion, chopped
1/4 cup cilantro, chopped
1/2 to 1 green chili (jalapeño or serrano)
2 Tbsp honey
1/2 to 1 Tbsp chat masala
salt to taste

1 cup AP flour (or more, for coating)
1 cup sesame seeds (for coating)
Oil (for frying)
Preparation:
1. In a bowl mix the thick yoghurt with the onion, cilantro, green chile, honey and chat masala. Salt to taste.
2. Make patties with the mixture and dredge it with flour and sesame seeds (each patty should weigh 1-2 oz)
3. Heat oil till the smoking point and fry the patties for 2 minutes or until golden brown color
4. Serve hot with mint chutney, pickles and marinated onions.
Note:
If you are using regular yoghurt instead of Greek yoghurt or if yours is not too thick, you should put the yoghurt in a muslin cloth and hang it for 2-4 hours to drain. You need a thick yoghurt for this patties to hold their shape before dredging and frying.
Recipe courtesy of The Raas Hotel, Jodphur