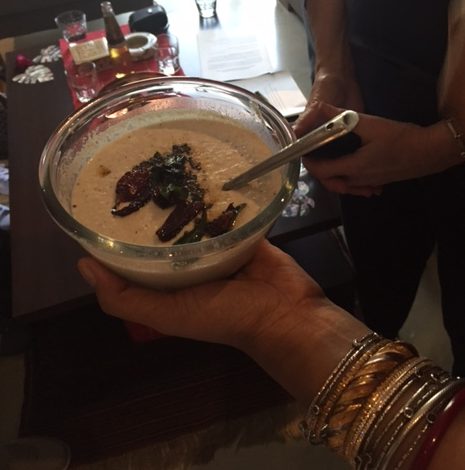 When in New Delhi, India, we visit the home of our friends Shoba and Mohan for a family style meal. We learn from Shoba some of the dishes that she prepares for her family and she shares some of her favorite recipes with us. While Shoba cooks vegetarian meals, these two chutneys she taught us are simple to prepare and will elevate any meal, vegetarian or not.
Coconut Chutney
Ingredients:

2 cups coconut, freshly grated
1 cup peanuts, roasted unsalted
3 dried chiles
1 tsp tamarind paste
salt to taste
pinch asafetida (optional)
Preparation:
In a grinder or blender combine all ingredients and process to desired consistency. Taste for seasonings and adjust as needed.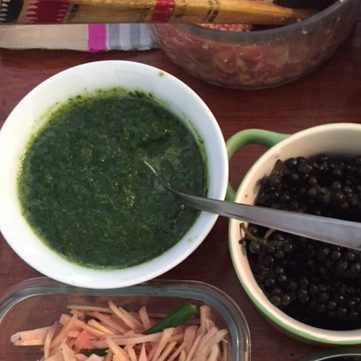 Coriander (Cilantro) Chutney
Ingredients:

1 big bunch of coriander
1 onion
1 clove garlic
1 green chili (optional or to taste)
1 lemon, juiced
salt and sugar to taste
Preparation:
Wash and clean the coriander, discarding thicker stems.
Roughly chop onion, peel garlic and deseed the chili.
Put coriander, onion, garlic and chili in a blender and process to make a paste.
Refrigerate until ready to use.
Season with lemon juice, salt and sugar. Mix well. Serve immediately.