In favor of "far-flungery"
Dear Friends,
January has rolled around and we find ourselves at the top of the year. I find that leaving the country has been a fine thing to do. It's hard to pick up in the middle of winter and fling oneself out the door, especially to the other side of the world. It feels wrong in some ways, like one is supposed to stay put by the fire.
But travel calls, and like a demanding lover, 
you risk leaving the comforts of home for 
some unknown destination that has your heart by its strings
and away you must go.
"I wanted to find a new self in a distant place, and new things to care about. The importance of elsewhere was something I took on faith", says Paul Theroux. "Elsewhere was the place I wanted to be." Sometimes we need change in the worst way, to wake up from a slumber.We all have different limits and reasons for traveling. Travelers are a certain sort. They have a need to travel. George Gissing (1897) remarked to himself, " I carry a desert within me". For others like Peter Matthiessen, "It is solved by walking". Whatever throws you out the door, respect it.
Some trips are made to go alone and some are meant to be taken with ease. Intrepid travel is not for everyone. It takes courage and the urge for going that ignores the fact that every accommodation, meal, driver, train, plane and money exchange is up to us. No matter how experienced, we are all naive in a foreign land. It's part of the fun.I am traveling in Sri Lanka with three women friends right now. We are all experienced travelers and live in countries not our own, and speak different languages. It's still so easy to slip up and end up not where you thought you were going. No harm done and it becomes part of the experience with stories to tell. But isn't it nice when you don't have to worry about any of that? One man's edge is another person's vacation –the no thinking kind. The kind that lets you relax, listen, look and learn. I recommend a trip with friends. We have made a pact to go once a year now. This is the stuff of life. Taking time to have meaningful conversations and laugh a lot. Even cry.
Whatever moves you to feel alive and in the moment. At PMCA we can provide a wonderful experience for you and your friends. Leave all the travel details to us. That way, you can still be friends by the end of your holiday.Make 2017 your year to travel with us. If you haven't booked already, we are in fine form and experts in the "art of far flungery."
Love,
Peggy & Co.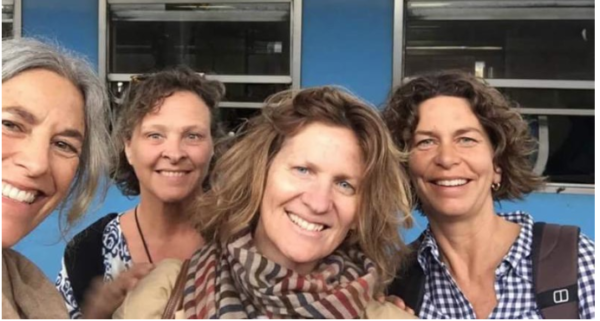 Here are some more posts we think you will enjoy:
Learn more about Peggy Markel's upcoming Culinary Adventures. Click here!