This carrot soup might as well be wearing some blingy gold jewelry, big yellow sunglasses and a straw hat. It says stylish summer all over it. At the peak of summer, these ingredients are brilliant and in their "balsamic moment" when flavor is at its peak as if to say "taste me". They have so much energy and vitality.
What makes a carrot sweet? Sweet enough to want to make a blended summer soup? It's not only the variety, the secret to deliciousness is in the soil, kind of like choosing a vegetable with a wholesome upbringing.
These Mokum carrots are off-the-charts naturally sweet, thanks to my neighbor Pete from Oxford Gardens, who is a good-dirt-guru.You might say it takes a village; an intentional farmer, good soil, good seed, good harvest, good cook.
The second-nature inspiration for this soup  comes from my travels. I now play with spices confidently from spending time in India and Morocco and love how they enhance any simple dish. Here, turmeric and ginger also give this soup a healing twist. The fresh corn and green serrano chili pepper settle it in the US west, where I presently am. I can already feel a chill in the morning air, can you?
This is what really happens when you drop into other cultures around food. It takes hold of you and doesn't let go! Welcome to my kitchen. It eclectic, full of treasures, including the antique tagine you see in the photo. (Spoon on the left is just for my casual left-handed convenience).
We are already filling up for 2020!  If you have an interest in traveling with us, get your mojo on and save your place while you still can.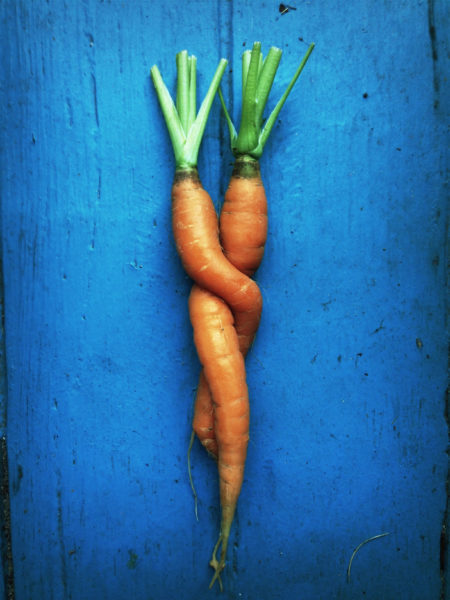 Ingredients:
For the soup:
6 carrots ( if organic and summer sweet, no need to peel), roughy chopped
1 onion ( red or yellow), cut into quarters
1/2 t ground turmeric
1/2 t ground ginger + op: squeeze of fresh
1/4 t ground cumin
For the corn garnish:
1 shallot, chopped fine
1 ear of corn (use 2 and make more!), slice kernels off the cob and put aside
1 poblano or spicy serrano green chili, seeded and chopped
3 T extra virgin olive oil
1 T butter
Salt and pepper
Yogurt or lemon (optional)
Preparation:
Take roughly cut carrots and onions and sauté in a bit of olive oil. Add the spices. Cover with water and add a healthy pinch of salt. Bring to a boil and let simmer for 15 minutes or until the carrots are soft.
Meanwhile, sauté shallot, corn and pepper in a drizzle of olive oil and a T butter for richness. Let the corn caramelize just a little to bring out the sweetness. Add salt to taste and a turn of fresh ground black pepper. Set aside.
Blend carrots, onions and liquid in a Vitamix or blender. It should be a fluid soup. Not too thick, not too thin.
Pour into wide bowls and garnish with the roasted corn and poblano saute'. Add a squeeze of lemon or a dollop of yogurt for brightness.
Thanks for reading! Here are some additional posts we think you will enjoy: