In Sidi Kaouki, the road stops at a long stretch of ochre sand beach, which continues on as far as one can see. The Atlantic crashes and the sky is vast.
Camels sit folded, ready for a slow saunter, but our appetites always point us straight to the Inn. It lies within a sleepy enclave of surfer hotels that have hosted wayward wind warriors for the last 20 years. We are there to eat.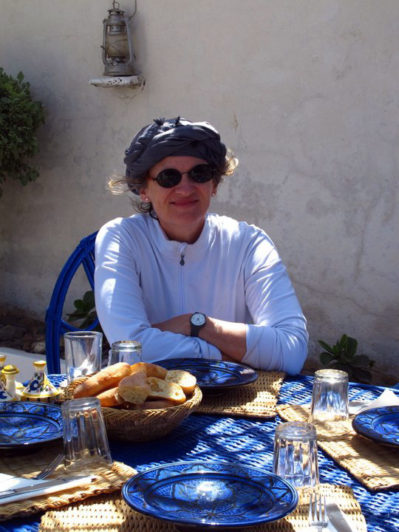 We drive off the pavement onto a dirt road, past a few stone houses with the odd chicken and beast, right to the hotel, just a few minutes walk to the beach. The two-story whitewashed building is welcoming and clean with blue shutters and a European simplicity. RoRo, a German woman, has maintained the property exactly as it was when she first bought it: a 10-room 
pensione 
with no electricity except for the office and kitchen. Candlelight dominates the night with a soft glow, giving the blanket of stars above the beach more shine. This is a place to relax, read, to walk the long, wide sand beaches, perhaps write, and most definitely to eat well.
Sitting in the open courtyard now, twelve years after that my first visit, my eyes catch a village woman wandering the dirt road with her goats. Donkeys bray and a sense of time is lost. Nothing has changed. Then lunch is served.
The dish precedes itself with a subtle nose of spice and fish. Then Nadia comes from the kitchen with a big smile, holding a steaming tagine carefully with her hand under a woven mat. Bonjour and bon appetit! She sets it down in front of me and lifts the conical shaped terracotta lid, like a cloche. First, I take pleasure in the ingenious design of the tagine, then the aroma that bathes the air with an exotic lift of paprika, morasia (a special blend of spices for fish) and fennel. The just-caught fish lies in the earthy dish sprinkled with red spices, on a bed of thinly sliced carrot and potatoes, still bubbling and perfectly roasted from the open fire.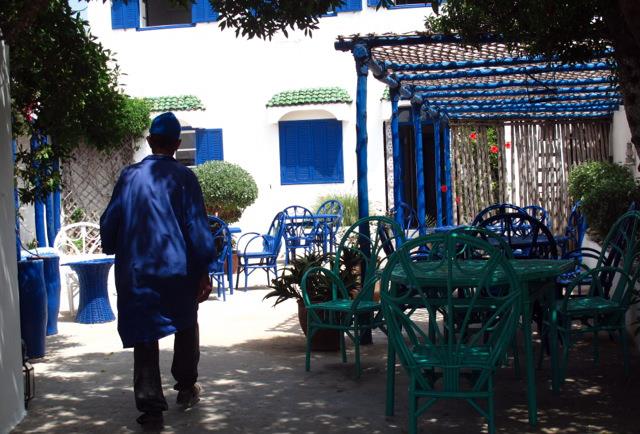 The wind is evident outside the walls, but it doesn't disturb my private conversation. It adds to it. After all, the recipe isn't only in the dish, it's in finding the right elements to honestly enjoy oneself, tasting not only the food, but a delicious moment off the beaten path.
Learn more about Peggy Markel's Culinary Adventures and Slow Food Tours. Click here.